The Reality of Educational Art in the Primary Schools From the Teachers' View in Babylon Governorate
Osamah Adnan Ali

Department of Art Education /College of Education for Social Sciences University of Tikrit /Iraq- Salah Al Din Governorate
Keywords:
reality, art education, elementary schools, teachers art education
Abstract
This modest effort, which sheds light on the reality of the lesson of art education in the primary schools of the province of Babylon, represents a modest contribution when compared to the great educational role entrusted to the teacher of art education, especially that there is integration in the educational objectives of all subjects, in building an integrated personality of the student to be An active and useful element of society.
Art has a high value as it is for mathematics and science because it has a strong connection to education. When people taste and understand art, it becomes an education in itself, and education when it achieves its goals and leads its mission becomes an art.
The artist designs his ideas from raw materials such as clay, dyes, wood or musical melodies. However, the educator as an artist designs his ideas, but his human nature constitutes his habits, beliefs and types of responses. He builds his tendencies and expands in the circle of his awareness and creation of a socially conscious person with his responsibilities and duties. The teacher of art education is an artist, but an art connoisseur.
And the importance of the lesson of art education, it is necessary to study the reality of this lesson by identifying the views of those who are trained by the educational family to promote it and overcome the difficulties facing them and address the relevant bodies to follow up the results that resulted from this study.
This research consists of four chapters, including the first chapter:
The problem of research, the importance of research and the need for it, the goal and limits of research.
The second chapter dealt with the theoretical framework with two subjects: art, the environment, and the psychology of children's drawings.
The third chapter includes research procedures in terms of the sample of the research and its tools and the statistical means used in it.
The fourth chapter dealt with the findings, conclusions, recommendations and suggestions in the light of the findings of the researcher's research.
It is my great hope that this research will add new enrichments in the development of the educational process through the recognition of the real reality of the lesson of art education and identifying the imbalances to be overcome in order to serve the educational process in our new Iraq.
Downloads
Download data is not yet available.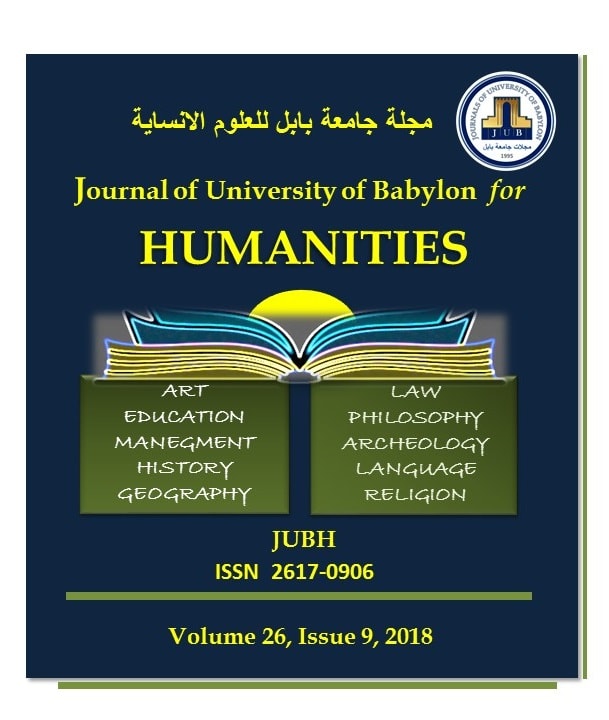 How to Cite
[1]
O. A. Ali, "The Reality of Educational Art in the Primary Schools From the Teachers' View in Babylon Governorate", JUBH, vol. 26, no. 9, pp. 228 - 241, Jan. 2019.