COVID 19,Risk of Infection and Biosafety Protocols in Diagnostic Laboratories
Keywords:
Biosafety, aerosol, COVID 19
Abstract
Over several decades, plenty of records of lab. workers contracting disease due to the infectious materials have been documented. About 80 percent of these cases are thought to be directly associated with the formation of aerosols during the lab. works with potentially infectious samples. Small liquid or solid particles of aerosols suspended in the air for a while or spread over a wide range of distances and then inhaled easily. However, they can be settled rapidly on surfaces such as skin and ventilation systems if the diameters of particles are higher than 5 microns. Effective steps should regularly be used to protect staff and the environment, or to reduce the extent of the aerosols production. Measures containing the aerosol are to be applied where physical containment at practice 2(P2) and above levels is needed for the research operation.
In most cases the safely equipment's and precautions must be available in all time in the lab. and comply with the required level of Biosafety for any type of the laboratory work (including the relevant biological agents, SARS-CoV-2 in this case). Staff who working with suspected or confirmed specimens of COVID-19 or of SARS-CoV-2 should be completely protected from such infectious materials. Good biosafety practices have been recognized to avoid or mitigate the spread of infection (i.e., SARS-CoV-2). Standard precautions expected to be already used by laboratories as stated in the general guidelines and they should follow standard laboratory practices. Practices related with these biosafety requirements must be proceed when dealing with samples/specimens from SARS-CoV-2. This involves microbiological as well as clinical laboratories conducting routine serum, blood, sputum (respiratory) and other sample diagnostic, analytical, or other research-related studies.
Downloads
Download data is not yet available.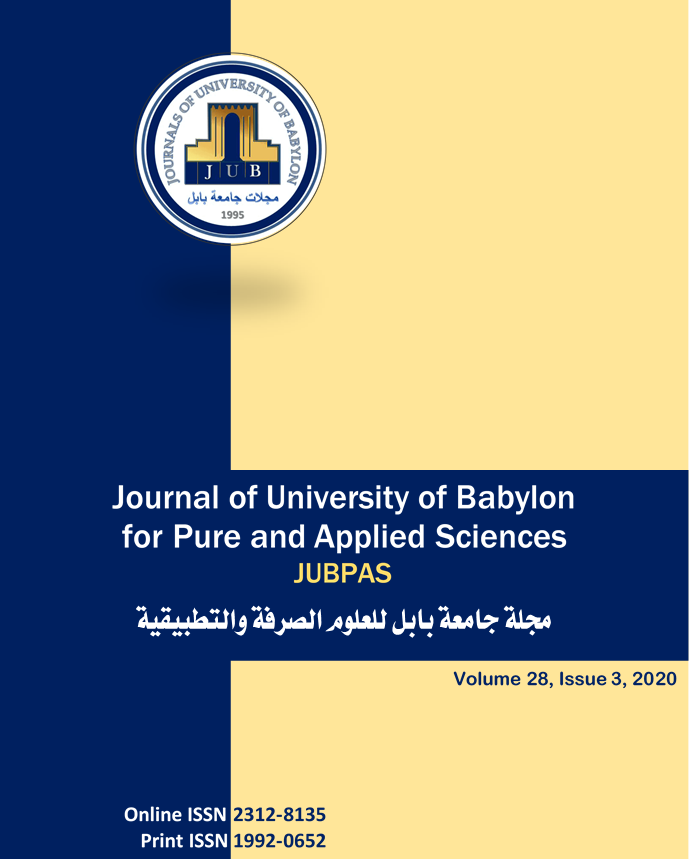 How to Cite
[1]
Z. H. O. . Alwan, R. A. . AL-Gelawi, and S. G. K. . Al-Ahmed, "COVID 19,Risk of Infection and Biosafety Protocols in Diagnostic Laboratories", JUBPAS, vol. 28, no. 3, pp. 90-97, Dec. 2020.
Copyright (c) 2020 Journal of University of Babylon
This work is licensed under a Creative Commons Attribution 4.0 International License.