Characterization of Novel Coronavirus and Pandemic of Covid-19 : an Overview
Keywords:
Coronavirus, SARS CoV, M protein
Abstract
In the last period of 2019, the new corona virus, currently called SARS-CoV-2, recognized by way of the reason for the spread disease of acute respiratory in China in Wuhan. During February 2020, the World Health Organization (WHO) identified   COVID-19, as the 2019 coronavirus disease.
Over the past 50 years, there have been different numbers of coronary viruses that have caused a wide range of human diseases and veterinary medicine. These viruses are expected to continue to appear, develop, and cause the spread of humans and viruses because of their ability to regroup, transform them and communicate a disease to numerous species in addition cells. Investigation of future for Coronavirus will ongoing for explore many aspects of virus duplication in addition pathogenesis. First of all, understanding tendencies for the viruses involved to hurdle among species, confirm contagion in another novel host, and identify large reservoirs of corona viruses   greatly help for predicting where and when possible epidemics will happen. Since bats appear an important viruses reservoir, it will be stimulating to limit how   can evade developing clinically evident of disease and persistent infection. Second, determining how  virus's non-structural and accessory proteins coded via  remain of viruses unmarked without a identified function and also be significant to determine the act mechanisms  of these proteins in addition to determine the  starring role in duplication  of viral then disease pathogenesis. These studies need to chief toward a major a plus the amount of appropriate treatment aims for control of infection. Additionally, several unique enzymes encoded via corona viruses, for example ADP-ribose-1 1-phosphatase, moreover exist in upper eukaryotes, creation their study applicable to learning common aspects of biochemistry and molecular biology. Third, likewise, obtaining a whole picture of RTC particulars will make available a background for learning replication of the unique RNA practice these viruses employ. Lastly, identifying just how coronaviruses reason disease then understanding the host's immune reaction for pathogen will greatly progress our capability to manufacture vaccines then decrease the disease burden.
Downloads
Download data is not yet available.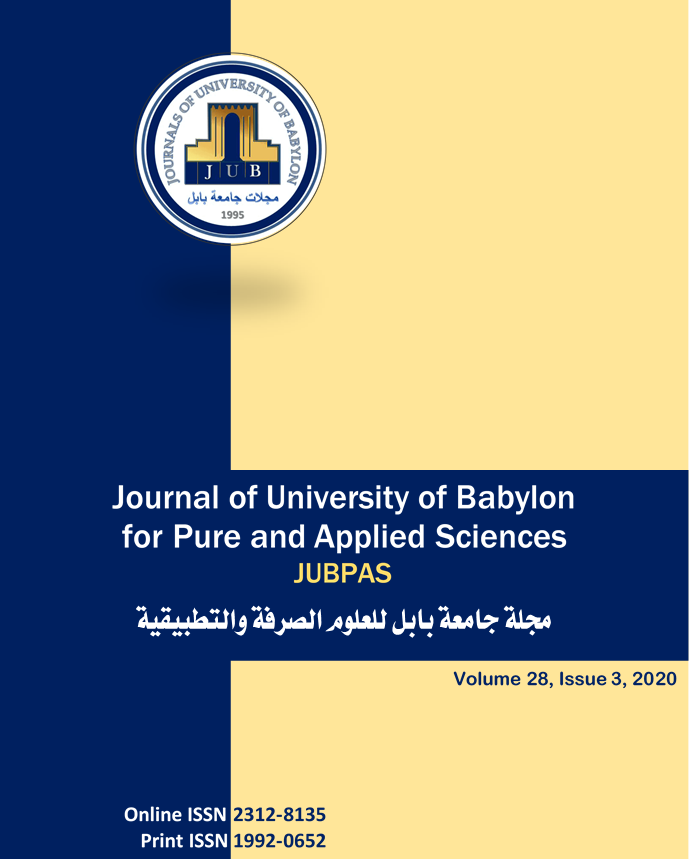 How to Cite
[1]
L. . . Abdul muttalib, A. M. S. Al-Jbouri, M. M. . Radhi, N. K. . Kadhim, and R. H. . Kh., "Characterization of Novel Coronavirus and Pandemic of Covid-19 : an Overview", JUBPAS, vol. 28, no. 3, pp. 196-206, Dec. 2020.
Copyright (c) 2020 Journal of University of Babylon
This work is licensed under a Creative Commons Attribution 4.0 International License.