N- Terminal Pro Brain Natriuretic Peptide among Patients with Metabolic Syndrome in Duhok City
Keywords:
Metabolic syndrome, Natriuretic peptide, Dyslipidemia, blood pressure.
Abstract
Background and objectives: Previous studies have demonstrated that serum NT-proBNP was lower in the general population with MetS. NPs are a set of peptide-hormones that are well known for their role in cardiovascular homeostasis. The present study aims at determining the NT-proBNP serum levels in patients who have MetS in comparison to subjects apparently healthy and inhabiting Duhok city/ Kurdistan Region/Iraq.
Methods: A cross sectional research was conducted between 1st of June 2019 and 29th of May 2020 at Duhok Diabetic Clinic. NT-pro BNP level was determine in 80 subjects with MetS (20 Males and 60 Females; 20-70 years) and 20 apparently healthy subjects. The data were analyzed by using the SPSS software version 23.T-test was used to compare between proportions.
Results:The mean ± SD of all demographic parameters (WC, SBP, and DBP) were significantly higher in subjects with MetS in comparison to apparently healthy subjects except age which was none significant.The parameters of biochemistry(triglyceride, TC,FBS, and insulin) in subjects with MetS also were substantially higher compared to apparently healthy subjects with the exception of HDL-C and NT-proBNP, which in apparently healthy subjects were higher compared to the MetS. The current data indicate that the NT-proBNP differentiates significantly between ages, BMI, DBP, FBS, and TG, with TC (p<0.05).
Conclusions: Metabolic components are correlated with a lower serum concentration NT-proBNP. These figure out increase the probability that decreased serum levels of NT-proBNP are an indicator of MetS, which could have important pathophysiological and clinical consequences.
Downloads
Download data is not yet available.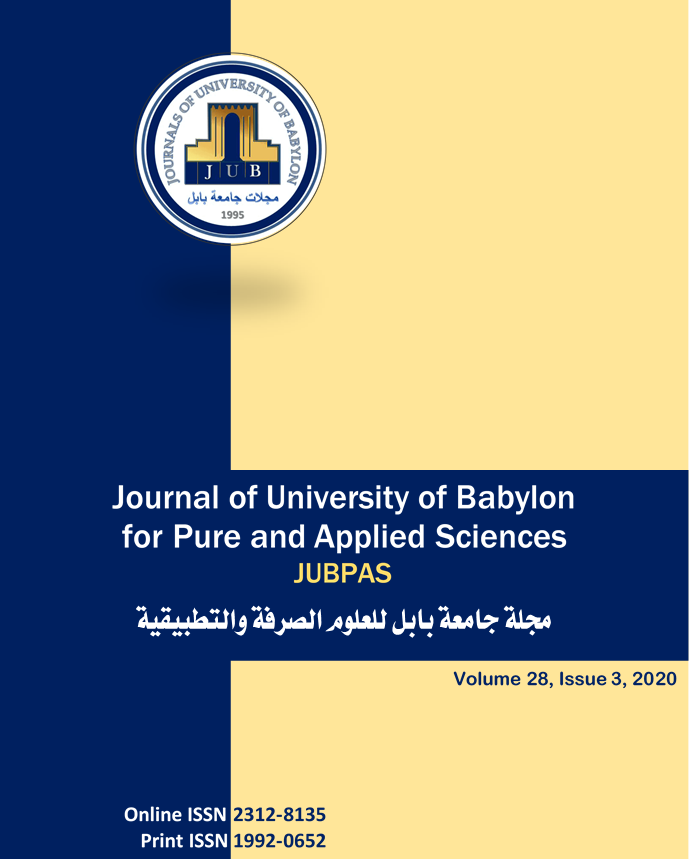 How to Cite
[1]
R. M. . Muhammad and D. M. Sulaiman, "N- Terminal Pro Brain Natriuretic Peptide among Patients with Metabolic Syndrome in Duhok City", JUBPAS, vol. 28, no. 3, pp. 276-288, Dec. 2020.
Copyright (c) 2020 Journal of University of Babylon
This work is licensed under a Creative Commons Attribution 4.0 International License.