Using the pictorial space in Khalid Al- Jader's
Maher Kamel Nafea'a

Department of Fine Arts - College of Fine Arts - University of Babylon

Nisrrn Mohammed Hadi

Department of Fine Arts - College of Fine Arts - University of Babylon
Keywords:
space, pictorial, Khalid Al- Jader
Abstract
The first chapter deals with the problem of research, its importance, the need for it, its purpose, and the definition of the most important terms in it. The space is that varied space of physical space and when we say material Space is not an abstraction, and space is the basis of relations of all its functions, and the similarity in the incoming forms does not mean anything except by formal organization. In this case, the output is not (similar to the parts except the initial case) that similar and convergent cubes do not mean that they are interrelated. By answering p The following question arises:
How did Khaled Al-Jader handle the photographic space?
The current research aims at identifying (how to use the photographic space in Khaled Al-Jader drawings) and the time limits from (1950-1988).
The second chapter deals with the theoretical framework and the previous studies. The first topic: the roots of the structure, and the first section of the research into two axes, the first axis: a historical approach, dealing with space in Mesopotamia, space in Islamic art, and the second axis: the concept of space in philosophy; : The life of the artist Khaled Jader style and work.
The third chapter includes the research procedures related to the research community, the research sample, the research tool and the research method, and then the analysis of the samples (5) samples.
The fourth chapter deals with the results of the research and its conclusions, and summarized the researcher to a set of results.
The artist adopted in his commitment and tendency to flatten the shapes and ease the entry into the depth.
And the colors in the drawings Khalid Aljader, we see sometimes quiet and angry in other areas of the painting.
    The researcher reached a number of conclusions, including:
1-The shape of the product of Mesopotamia in the treatment of space one of the pillars of the artist Khalid Al - Jader.
2- The artist Khalid Al-Jader was based on flattening the shapes in his works, where he dealt with the Arab Muslim artist, who avoided stereotyping and treated space flatly.
Downloads
Download data is not yet available.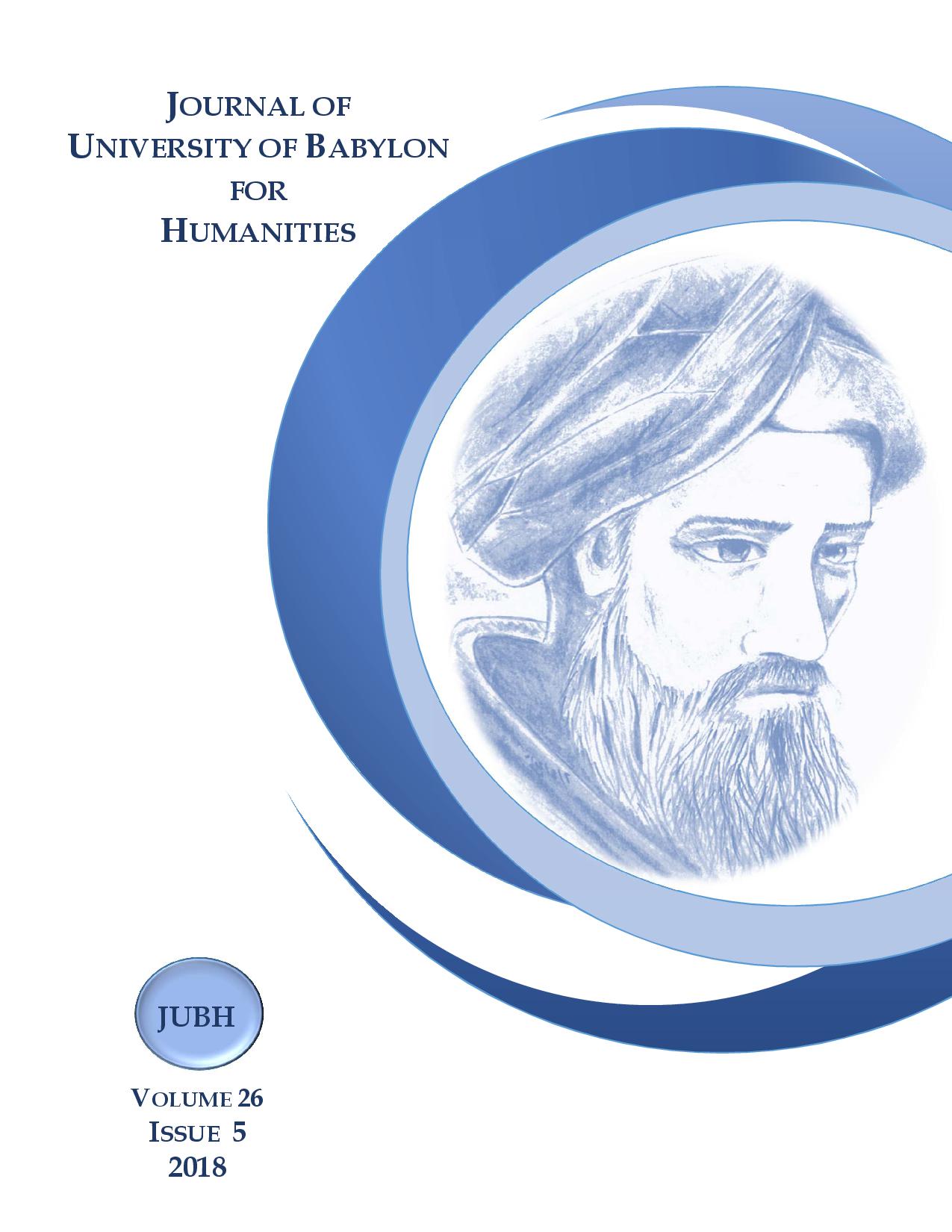 How to Cite
[1]
M. Nafea'a and N. Hadi, "Using the pictorial space in Khalid Al- Jader's", JUBH, vol. 26, no. 5, pp. 332 - 352, Apr. 2018.