Figure and Content in the Old Iraqi Painting
Saba Ali Hassan Al- Saadi

Directorate of Education of Babylon
Keywords:
shape, content, ceramics, pottery
Abstract
The current research dealt with the form and content in the old Iraqi drawing. The research may be of four chapters. The first chapter deals with the methodological framework of the research, represented by the problem of research, which ended with the following question: Is the form and content identical to the old Iraqi drawing?
 The purpose of the research is to explore and identify the semantic and aesthetic content of the ancient Iraqi painting within the limits of the research, which was limited to the study of the frescoes in the palace of Mary in the old Babylonian era within the time limits (2000 - 1500) BC during the Mary dynasty.
The second chapter included the theoretical framework which is in two subjects. The first topic dealt with the emergence of art and its relation to man. The second section deals with the study of the art of drawing through the ancient Iraqi ages, including pottery, pottery and murals, with a detailed study of the drawings. The third chapter included the research procedures that included the research tool and its methodology and the analysis of the samples (4.(
The fourth chapter contains the results of the research, including:
1.The symmetrical structural representation of form was the main role in the construction of painted murals.
2.The structure of the wall painting aesthetically linked to the symbolic distance resulting from the mark between the shape and content expressed on the one hand, and the relationship of lines and colors on the other hand.
The research ended with conclusions, suggestions and recommendations, then a list of sources and summary in English.
Downloads
Download data is not yet available.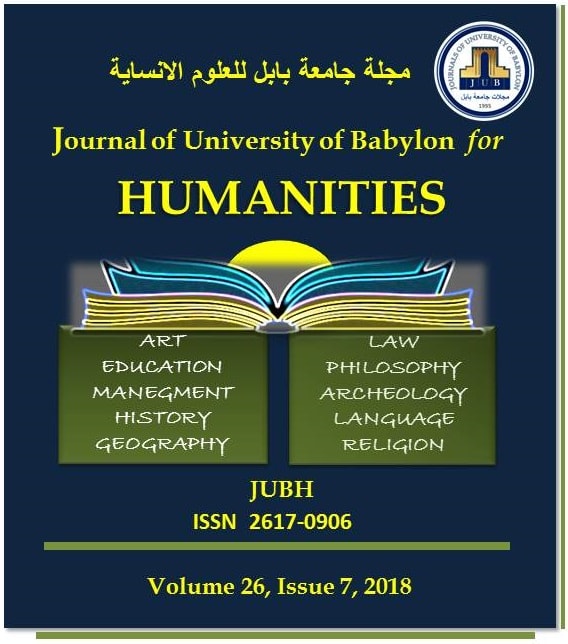 How to Cite
[1]
S. A. H. Al- Saadi, "Figure and Content in the Old Iraqi Painting", JUBH, vol. 26, no. 7, pp. 121 - 143, Jul. 2018.