Evaluation Bio-Climatic Comfort for People Living in the Internal Spaces of Buildings in AL-Diwaniya City
Salih Ati Jasem

University of Al- Qadisiyah / College of Arts

Hussein Ali Abdul Hussein

University of Al- Qadisiyah / College of Arts
Keywords:
Bio-climatic comfort, Internal spaces, Thom's Index, Thermal performance
Abstract
The study aims to evaluate the level of Bio-climatic comfort for people living in the internal spaces of buildings in order to evaluate the level of thermal performance of these buildings. The level of comfort is considered as an indicator to the response of designing and planning elements of buildings  to the common climate, in addition to identifying the effective air-conditioning systems required in buildings (heat-cool). The data base was collected by the use of (Thermo-Hygrometer) which is used to measure temperature and humidity to different building of different functions including: hosing educational, health, industry and religious (15) government buildings were selected randomly in a percentage of (3.6%)of the government buildings in AL-Diwaniya City  in addition to (4) housing buildings.
The time limit of the study lasted from (21 of June 2016) to (20 of April 2017) Thom's  Index of Discomfort is used to measure the level of Bio-climatic comfort depending on the  a average score of high temperature and relative humidity and the following results are shown:
1- A high percentage of the government buildings in which most people feel discomfort in the internal spaces in summer which reaches (67%) and accordingly the increase of power consumption ,while in winter most people feel the Bio-climate comfort in the internal spaces of all the government building with a percentage of (100%) .The indicates that all the government buildings (the sample of the study) have a designing and  planning features that respond to the elements of local climate in winter.
2- The level of heat performance decreased to (80%) of the government buildings in Autumn because more than (50%)of people feel with discomfort. The level of heat performance increases in spring because the percentage of people who feel with comfort is the opposite in comparison with Autumn.
3- More than (50%) of people in the housing buildings suffer from discomfort in summer, while in winter (100%)of people achieve Bio-climatic comfort in these buildings.
Downloads
Download data is not yet available.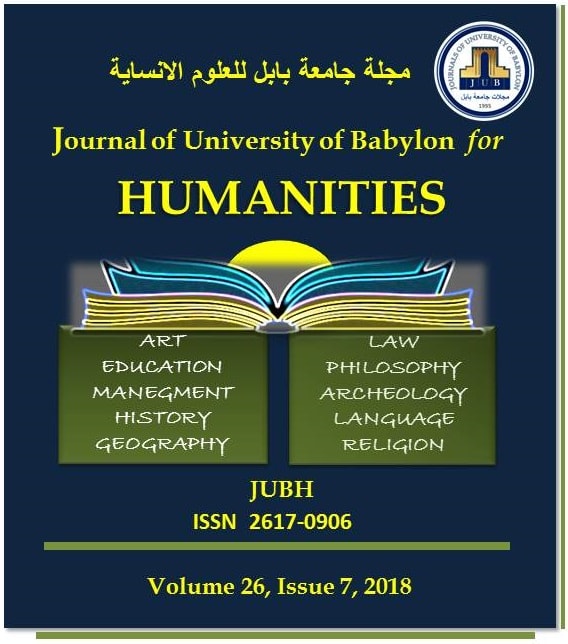 How to Cite
[1]
S. A. Jasem and H. A. Abdul Hussein, "Evaluation Bio-Climatic Comfort for People Living in the Internal Spaces of Buildings in AL-Diwaniya City", JUBH, vol. 26, no. 7, pp. 200 - 222, Jul. 2018.