Reification and its Representations in the Iraqi Theater
Ayad Kazem Taha

College of Fin Arts/ University of Babylon

Aseel Abdul Khaliq

College of Fin Arts/ University of Babylon
Keywords:
Despicable, Implications, Personalized
Abstract
In all its stages, the theater has been an intellectual and educational heritage. Its origins derive from human relations and the consequent conflicts resulting from changes in all spheres of life, which have led to a further division and fragmentation which has led to a state of psychological alienation. And habits and thinking and changes in the value of intellectual human to the transformation of relations between people to the relations between things ... Man is working as it is fragmented and divided into parts  lost link to all and become a tool of small gear in a huge.             
The current research consists of four chapters: The first chapter is the methodological framework which includes the problem of research, its importance and its objective which is the following question: (Did the performances of the Iraqi theater produce a phenomenon of vomiting), and this chapter included the limits of research, The study ended with the study of theatrical performances that rely on the representation and its representations in the Iraqi play. The chapter concluded by defining the terminology and defining it linguistically, theoretically and procedurally. The second chapter is the theoretical framework and the previous studies, which included two subjects: The second part is devoted to the study of "Desire and its Representations in the theatrical text." This chapter concludes with the previous studies, their discussion and the most important indicators that resulted from the theoretical framework. The third chapter is concerned with the research procedures of the research society and its samples which were selected in a fundamental way based on the indicators that resulted from the theoretical framework as a tool for analysis within the descriptive approach.
1) Illness merges man into full integration, which is not allowed to be reserved for himself with a special inner dimension.   
2) about the humanization of man to an eternal consumer, the spiritual death of man and the survival of things.
3) The loss of a person's psychological balance deprives him of his identity and his value at the same time. 
The fourth chapter is the results and the discussion, and then the conclusions, recommendations and suggestions, to end the search of the list of sources. 
Downloads
Download data is not yet available.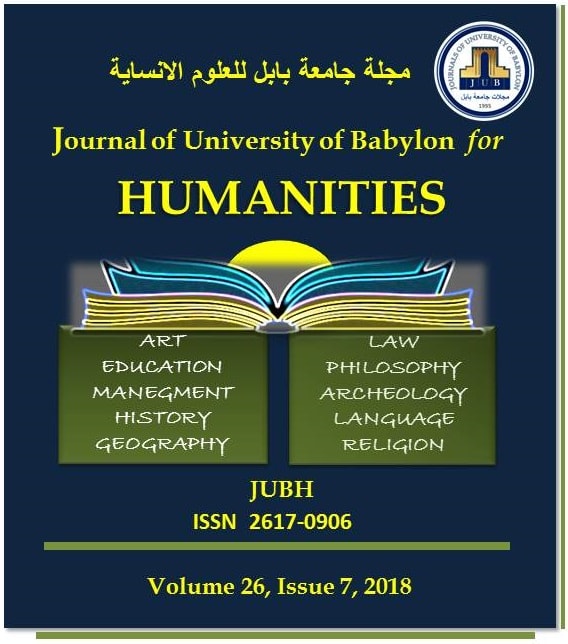 How to Cite
[1]
A. K. Taha and A. A. Khaliq, "Reification and its Representations in the Iraqi Theater", JUBH, vol. 26, no. 7, pp. 223 - 242, Jul. 2018.