The Problem of Dramatic Act Structure in the Iraqi Play
Hameed Ali Hassoun AL-Zubeidi Ali Hassoun AL-Zubeidi

College of Fine Arts /University of Babylon
Keywords:
problems, structure, drama
Abstract
This research deals with the problems of the structure of the drama in the Iraqi play in the era (1928) by subjecting the play (sample research) to descriptive analysis, and in the researcher's perception, such a study would enrich the artistic achievement in writing the dramatic text according to the basis of objectivity.
The second is a general survey of the components of the structure of the dramatic act which is the stage of presenting the information, the starting point of the event, the conflict, the crisis, the climax and the end.
The importance and function of each of these elements in the creation of the integrated structure of the play has been clarified based on the eyes of both ancient and modern dramas, including the latest foreign studies available in Iraqi libraries.
An analytical model was also drawn up in which the words taken into account in the research procedures were fixed when analyzing the selected sample models.
In the fourth chapter, which received the applied study, the selection of Iraqi theater work according to the basis of descriptive analytical approach, or the results and conclusions reached by the study was presented in Chapter IV, the most prominent of which:
Prolonged in the stage of submission of information due to lack of conciliation in the presentation method.
The presentation of unreasonable ends or solutions contradicts the relevance of their results to the main conflict.
Downloads
Download data is not yet available.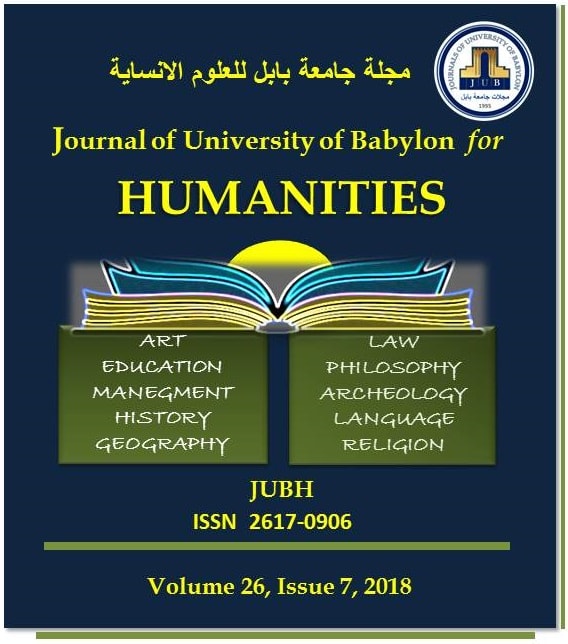 How to Cite
[1]
H. A. H. A.-Z. A. H. AL-Zubeidi, "The Problem of Dramatic Act Structure in the Iraqi Play", JUBH, vol. 26, no. 7, pp. 281- 295, Jul. 2018.