Technique of the Closed and Open Working on the Structure of the Contemporary
Hamid Ali Hassoun AL- Zubadi

College of Fine/ University of Babylon

Ruqia Wahab Majeed

College of Fine/ University of Babylon
Keywords:
Closed, Open, Structure, Theatrical Text
Abstract
The expansion of the field of literary culture in the process of the evolution of literary productions and diversity of doctrines and the growing creators and the birth of monetary methods and the emergence of monetary forms, which often were closed according to a cultural vision at a certain time and then open the dialectic problematic in accordance with the contradiction of the past vision and its paradox to reveal the concepts of problematic And their facts from a broad cultural perspective.
The dialectic of closed and open text is a cultural intellectual problem [separation, overlap, presence, absence of identity and marginalization].
This study is devoted to uncovering the advantages of the structure of the closed and open theater text and the mechanism of closure and openness in contemporary Iraqi theater literature.
A study whose field of research has broadened to be a comprehensive objective study that produces objective results.
The closed and open orbits in the field of theatrical texts did not solve the dialectical problem. The study asked about the closed and open argument to reveal the problem of research by asking the following:
What mechanisms of open and open operation in the structure of contemporary theater text ?
The study included four chapters, which included the first chapter on the research methodology, which included the problem of the above research and its importance and objectives. Its objectives and objectives are:
Disclosure of closed and open text mechanisms in the structure of contemporary theater text ?
Its limits: The temporal limit is set in (1992) and the spatial limit is Iraqi.
The second chapter includes the theoretical framework and its indicators and contains several axes:
 study (title - plot - personal - language - place - time).
Chapter IV also contains conclusions, recommendations, proposals and a list of sources and references.
Downloads
Download data is not yet available.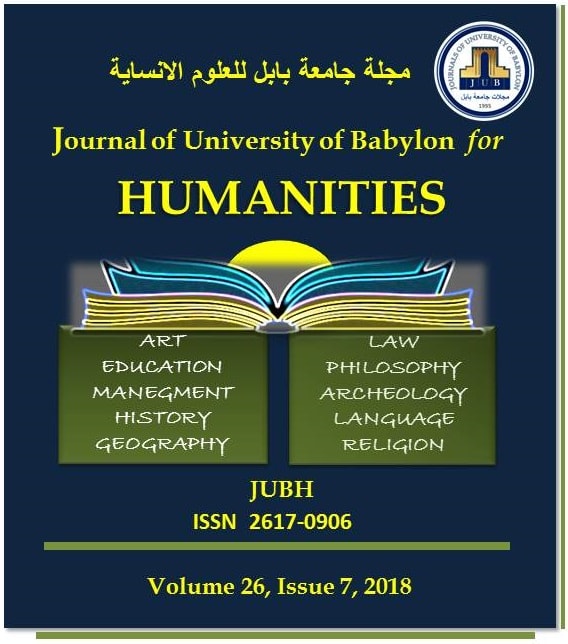 How to Cite
[1]
H. A. H. AL- Zubadi and R. W. Majeed, "Technique of the Closed and Open Working on the Structure of the Contemporary", JUBH, vol. 26, no. 7, pp. 296 - 312, Jul. 2018.