Principles of Peaceful Coexistence in the Holy Quran and Follow Impact and its Role In Achieving the Unity of Society
Ashraf Adnaan Hasan

University of Babylon -College of Quranic Studies

Imaan Abdelhasan Ali

University of Babylon -College of Quranic Studies
Keywords:
nodal, sectarian, nation, peaceful, coexistence
Abstract
This research is aimed at identifying the most important principles of peaceful coexistence in the Holy Quran and the Sunnah and its impact on the achievement of Community unity and the building of society on the basis of intimacy, love, non-discrimination, sectarianism, racism and extremism of all kinds .                                                              
The principle of freedom of religious belief, the principle of freedom of dialogue and understanding, the principle of tolerance, the principle of cooperation, the principle of justice and Charity and the principle of equality are among the most important of these principles. The research concluded with a number of findings, most notably:          
 -The principles of peaceful coexistence mentioned by the Holy Quran constituted an approach and a path for the Prophet Muhammad (peace and blessings of Allaah be upon him) in the construction of the state that Islam wanted, which was represented by the Prophet Muhammad (peace and blessings of Allaah be upon him) and by the infallible Imams (upon whom Salam) were best represented .                                   
-The research concluded that these principles must be applied together and cannot be applied without the other; each is complementary .        
- Research has shown that every member of society has rights and duties regardless of religion, creed, sex or nationality, and the value of the individual in his or her society lies according to his or her benefit to the human person.                                                                   
 -These principles contribute to the realization of the Community unit of different sects and boredom, far from the unity of individuals within one category and one form.
Downloads
Download data is not yet available.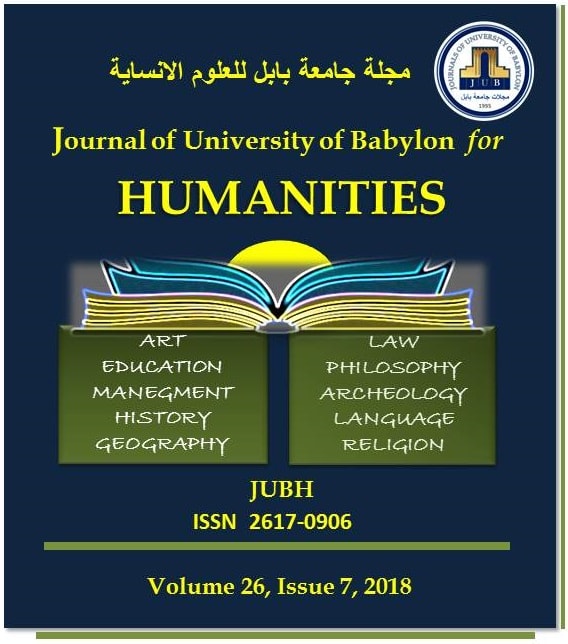 How to Cite
[1]
A. A. Hasan and I. A. Ali, "Principles of Peaceful Coexistence in the Holy Quran and Follow Impact and its Role In Achieving the Unity of Society", JUBH, vol. 26, no. 7, pp. 332 - 343, Jul. 2018.