The Effect of Teaching Arabic Grammar in the Light of the Compose Theory of Abdul - Qaher Al-Jurjani in Acquiring the Grammatical Concepts
Naeem Khalil Aboud

Babil Governorate Education Directorate - Ministry of Education – Iraq
Keywords:
Arabic grammar, Compose Theory, grammatical concepts
Abstract
The current research aims at identifying the effect of teaching grammatical rules in the light of the compose theory of Abdel-Qaher Al-Jurjani in acquiring the grammatical concepts among the fourth secondary school students.
To achieve the goal of the research, the researcher randomly selected Al-Fayhaa secondary school for boys and randomly selected the E section to represent the experimental and section B which studied it in the traditional way. The sample of the research consisted of 90 students, 45 of them were in section E and 45 students were in section B.
After determining the study material, the researcher formulated behavioral objectives for the subjects where the objectives became 34 ones. The researcher prepared instructional plans for the subjects to be taught during the trial period which lasted eight weeks and ended with the application of the grammatical concepts acquisition test. After analyzing the results, the researcher reached the superiority of the experimental group on the control group.
Downloads
Download data is not yet available.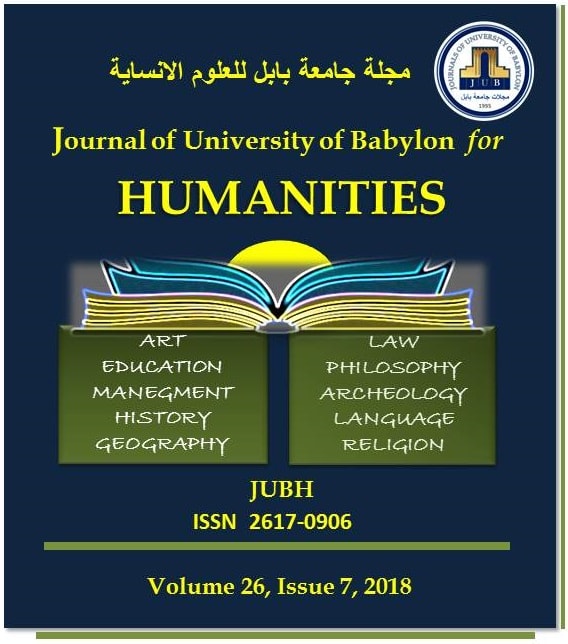 How to Cite
[1]
N. K. Aboud, "The Effect of Teaching Arabic Grammar in the Light of the Compose Theory of Abdul - Qaher Al-Jurjani in Acquiring the Grammatical Concepts", JUBH, vol. 26, no. 7, pp. 547-569, Jul. 2018.