Character's Poem in the Poetry of Abdulelah Al-Yasery
Samir Fadhil Abdulkadhim Al-Asady

College of Arts/ University of Babylon
Keywords:
Abdul-Elah Yasiri, The Limits of Time, Poetry Experiment
Abstract
Subject of this research is correlated with gender interventions and the development happened in the structure of Arabian poet by form and evidence, it is the (Character's Poem) was tackled by one of the Iraqis poets who was compelled to migrate on 1979 because he didn't support the politics that time, he is (Abdulelah Alyasery), that interprets the reason of  hiding Mr. Alyasery by the authority at that time, even ha wasn't mentioned by any research or an article except in one thesis was in 2018.
By briefing his poetry samples, we discover that he relies on (Character's Poem) with it's different types (religious, literary, politics, legendary and historical) in order to hide behind them and make use of their inspiration and evidences, consequently, that adds a type of artistic originality to the poetry experiment of Mr. Alyasery via giving it cultural historical limit and granting it a form of exceeding that gives it the comprehensive and totally characteristic that exceed the time limits, and it's content molded in a subjective unit, that appears clearly in when he employs character's poem in his poetry collection, he makes use of these voices due to their strong effect in the mind of Arabian listener generally and Iraqi one exclusively. Hence, the Character's poem becomes an integrated pattern with all historical, innovative and humanitarian dimensions, plus it is considered as a poetry pattern that enables the poet to escape from the enclosed self-limits and express a plural vision that exceeds the time and poetry experiment.
Downloads
Download data is not yet available.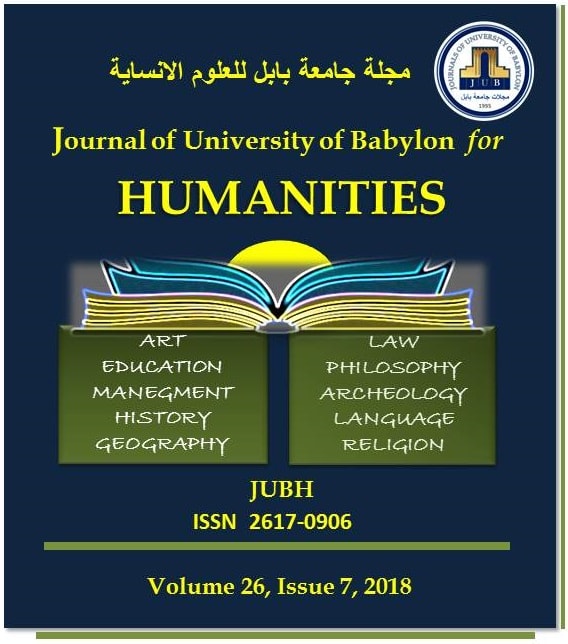 How to Cite
[1]
S. F. A. Al-Asady, "Character's Poem in the Poetry of Abdulelah Al-Yasery", JUBH, vol. 26, no. 7, pp. 598 - 612, Jul. 2018.