The Features of Artistic Expression in Drawings of Children of the Sons of Artists and Chidren of Non-artists(Acomparative Study)
Sakana Hassan AL-issawi

Gamal Al-Sarra for Girls/ Department of Art Education
Keywords:
children's drawings, artistic expression, boldness in subtraction, distortion in time and space
Abstract
The current research  includes study the characteristics of artistic expression in drawings of children of the sons of artists and non-artists  studied comparative in an attempt to reveal the features of those  drawings and stand on characteristics' that characterized them and clarifying the views that shed light on the drawings of children and to indicate the entrances and characteristics that characterize the child's drawings add a statement to the effect of the effect of the family on the attributes of artistic expression the importance of the current research may lie in the need for it  trying to identify the features of drawings artists sons about their peers from the children of non-artists which supports our knowledge in an attempt to develop new research concepts allowing  the recipient to see the  unique features of  their artistic expression the researcher dealt with  the method of scientific research to know the search  results and have taken the corresponding method for them as a tool as well as an observation field the researcher identified a research community randomly selected samples from the sons of his professors of the faculty of fine Arts at the university of  Babylon and models of primary school pupils and Riyadh  in the center of the province of Babylon also try to answer the questions prepared for that purpose the researcher concluded that there  must be significant differences in the field of abstract painting ,which indicates the boldness in the subtraction children have sons of artists other differences were found to be significant in children's drawings the distortion of time and place is assign of having a wide imagination and the flexibility of  ideas and in light of the results of the study the researcher pointed out a total of recommendation and the ettension of  this study and the completion of  the  researcher put it asset of suggestions.
Downloads
Download data is not yet available.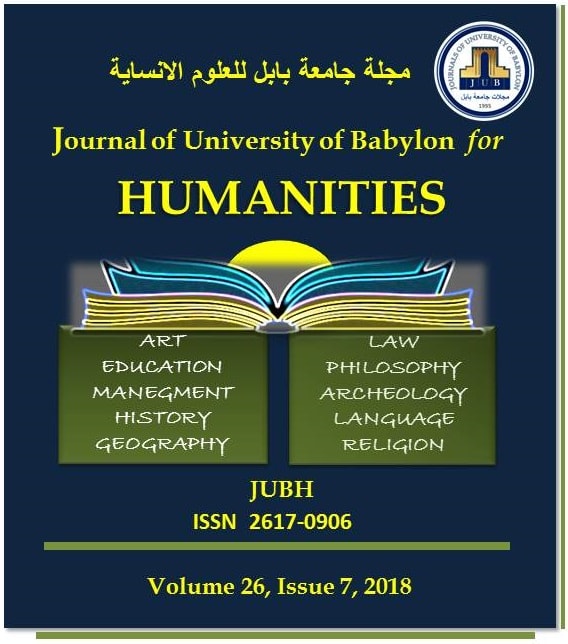 How to Cite
[1]
S. H. AL-issawi, "The Features of Artistic Expression in Drawings of Children of the Sons of Artists and Chidren of Non-artists(Acomparative Study)", JUBH, vol. 26, no. 7, pp. 613 - 634, Jul. 2018.