Effect of Mutual Style in Learning the two Skills of Setting and Serving in Volleyball for Students
Hayder M. Abbood

College of physical education and sport sciences – University of Babylon

Rawaa A. Kadhim

College of physical education and sport sciences – University of Babylon
Keywords:
Mutual style, Volleyball, setting and serving
Abstract
The problem of research has been crystallized from observance of the two researchers for the teaching materials related with subject of volleyball, that showed a lower level of performing some skills like serving and setting for most of 2nd grade students, due to using the same classic styles in teaching, often, which influence negatively upon these two skills.
Hence, two researchers decided to use the mutual style in teaching which shows the role of student through his active participation during performing the educational materials and then led to achieving aims applied for the lesson. The research aimed to:
Knowing the effect of mutual style in learning the two skills of serving and setting in volleyball for students.
Knowing the preference between the two styles , mutual and the current used one in learning two skills of setting and serving in volleyball for students.
The two researchers used experimental style in designing the equivalent groups, population was specified by students of 2nd grade/ morning study in the college of physical education and sport sciences in Babylon -university for the year of (2017-2018), who are (157) students, while the random sample by lottery was ( 40) student as (20) student per each group, experimental and controlling, with percentage of (25,47).
To get the research's results, the two researchers used two tests of technical performance for the skills of setting and serving in volleyball, they used also the (SPPS) to process research's results, they concluded the following:
Mutual style has a positive effect on learning the two skills of setting and serving in volleyball for students.
Exceeding of experimental group's learners over controlling group's learners in the two skills.
Research was finalized with a bunch of recommendations, most important ones are:
Confirming on using mutual style in learning basic skills of setting and serving discussed in the research.
Downloads
Download data is not yet available.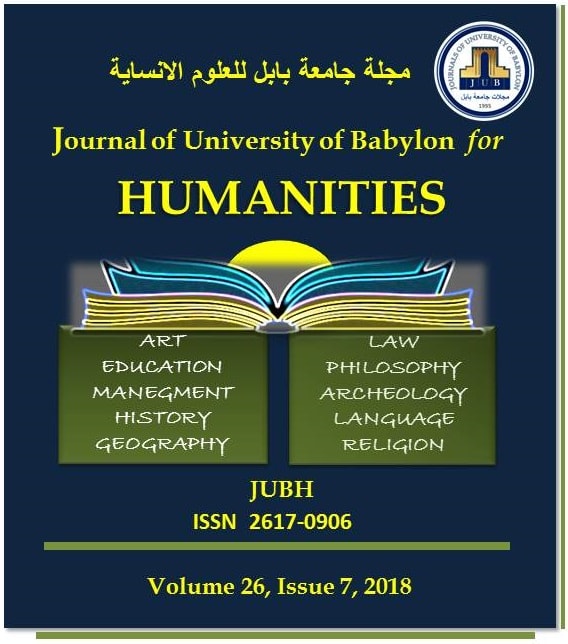 How to Cite
[1]
H. M. Abbood and R. A. Kadhim, "Effect of Mutual Style in Learning the two Skills of Setting and Serving in Volleyball for Students", JUBH, vol. 26, no. 7, pp. 635 - 647, Jul. 2018.