The Dominant Sign in the Hadith - the Code is an Example
Sabah Abbas Anouz

Faculty of Education for Girls / University of Kufa / Najaf / Iraq.

Anam Hassan Shamran Al-Dhafiri
Keywords:
The Hadith is a term, the study of the mark, the symbol and its significance
Abstract
The research is concerned with the study of the mark in the hadith, because its presence in the text has an important role because it gives the text a definite meaning, because it has the ability to convey the meaning from words and ambiguity to clarity, as well as it is a means or tool to communicate the recipient with the text and know its purpose. The purpose of the study is to study the symbol as one of its types and part of it, as well as the abundance of its narration in the Hadith, because the symbol types such as: religious, social, And historical, and that its existence is the symbol in the Hadith Sherif is a conveyor tool for purpose, giving the recipient the meaning of the modern text and explaining it to him as well as the opacity function granted by the symbol to the recipient of the Hadith, the symbol contributed and facilitated the recipient to analyze the modern text and understanding the significance, because the symbol of the technical means adopted by the event of the Sharif came inspiration And the hint without the direct expression for the purpose of increasing the focus of the recipient and draw his attention to the intended meaning, was the presence of the symbol in the Hadith, a way to bring the speaker to the recipient and deepen communication with him, and this prompts the recipient to read the text contemplated with the extension of consideration to him The meaning of the modern text conveyed by the code to the recipient is clear and understood, especially when the environment came into producing the meaning, because the symbols of the modern text are inspired by the environment of the recipient. , The symbol comes in the modern text carrying a certain idea Arda spokesman to convey to the listener came the symbol explaining it, as that idea may concern the issue of religious or social or historical, and that the main purpose of its illustrations assess the behavior of the listener and organize his life with the teachings of Islam, Prophetic tradition Within the means or artistic values ​​in expression.
Downloads
Download data is not yet available.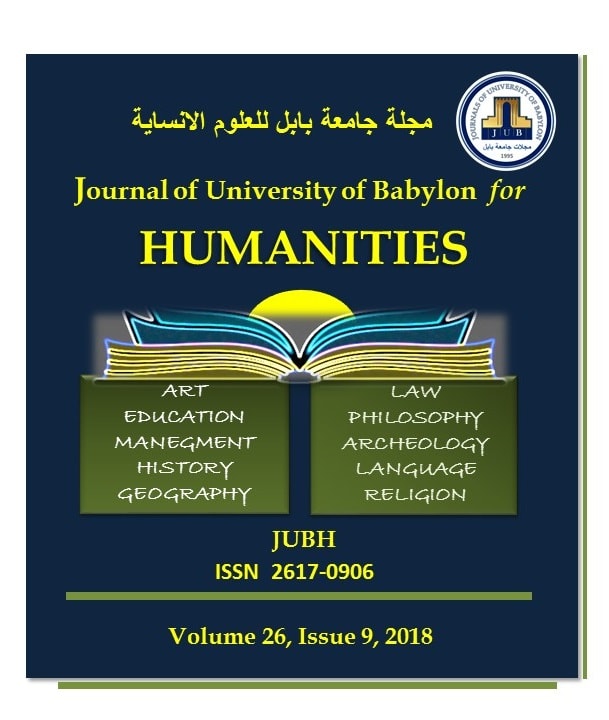 How to Cite
[1]
S. A. Anouz and A. H. S. Al-Dhafiri, "The Dominant Sign in the Hadith - the Code is an Example", JUBH, vol. 26, no. 9, pp. 58 - 75, Dec. 2018.