Shakespeare's Speech and its Manifestations in the Iraqi Theater
Shaker Abdul Al Theem Jaafar

College of Fine Arts /University of Qadisiyah

Hassan Kazem Khudair

Directorate General of the education of Babylon
Keywords:
speech, appearances, contemporary, evolution, directing
Abstract
Shakespeare, through his scriptural production, has prepared a format for the formation of other texts for many of the world theater writers. They are either reciting, reciting or rephrasing their theatrical texts in accordance with the contemporary requirements of the environment, society and cultural mold in which they lived. However, developments in all social revolutions have led to the development The scriptural discourse as well as theatrical presentation, especially after the official appearance of theatrical director, which is an example of the developments of the literal output, based on currents of modernity, the directors directed to hit the epic and the sanctity of theatrical text leap in the space of the draft presentation so it has emerged concepts including the text of the author and text The director, who is the text of the presentation containing his vision of the director, which made the contemporary director finds in Shakespeare's texts the play directly and live material and expressive and adapted to the social culture from which to start the establishment of theatrical play, so came the board of research in all chapters subject to the mechanism of theatrical director From the Shakespearean textbook and by bypassing the contemporary playwright himself.
Downloads
Download data is not yet available.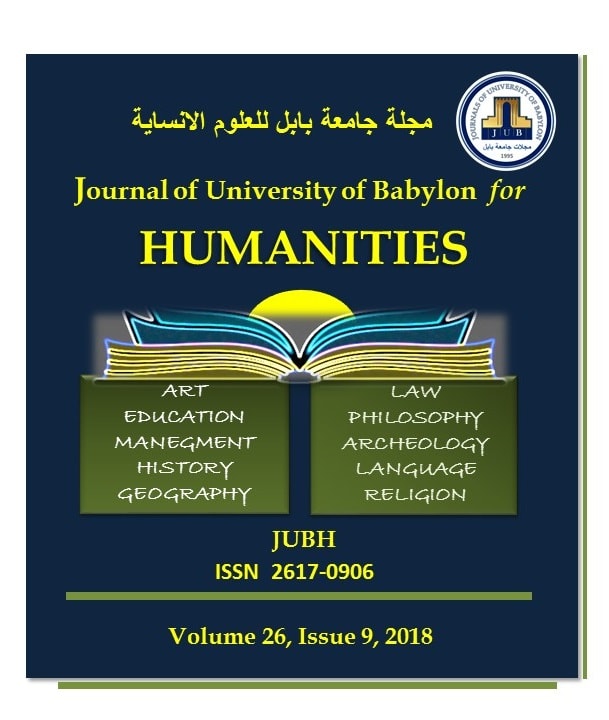 How to Cite
[1]
S. A. A. T. Jaafar and H. K. Khudair, "Shakespeare's Speech and its Manifestations in the Iraqi Theater", JUBH, vol. 26, no. 9, pp. 173 - 189, Dec. 2018.