Penal Protection of the Air Environment (A Comparative Study)
Nasreen Mohsen Nema Al – Husseini

Imam Al - Kadhim College of Islamic Sciences University / Department of Law College sections in Babil Province / Iraq
Keywords:
Penal Protection, Air Environment, Crime of pollution of the air environment
Abstract
The air environment is one of the most important elements of the environment and its pollution has serious effects by endangering the lives of individuals and living organisms for damage or danger. Hence, the Iraqi legislator in the Iraqi Penal Code No. 111 of 1969 amended, as well as the law of protection and improvement of the environment currently in force No. 27 For the year 2009 pollution of the air environment, and considered the first law the crime of pollution of the air environment violated and punished by imprisonment or fine or both penalties in separate texts of the fourth book, whether it is related to public health or public rest, according to the form of criminal behavior component of the physical component of the crime , While the second law considered the crime as a misdemeanor and punished it with imprisonment and fine as well after taking a series of administrative sanctions against the perpetrator under Chapter 9. It should be noted that the Iraqi legislator in the previous two laws has attended to the individuals a number of activities, And the mere fact that individuals carry out such activities in violation of the laws, regulations and instructions, the crime is realized, even if it does not cause harm, as the crime under investigation is a form of formal crime or the crimes of the abstract behavior that the legislator punished. Z verification of the outcome.
Downloads
Download data is not yet available.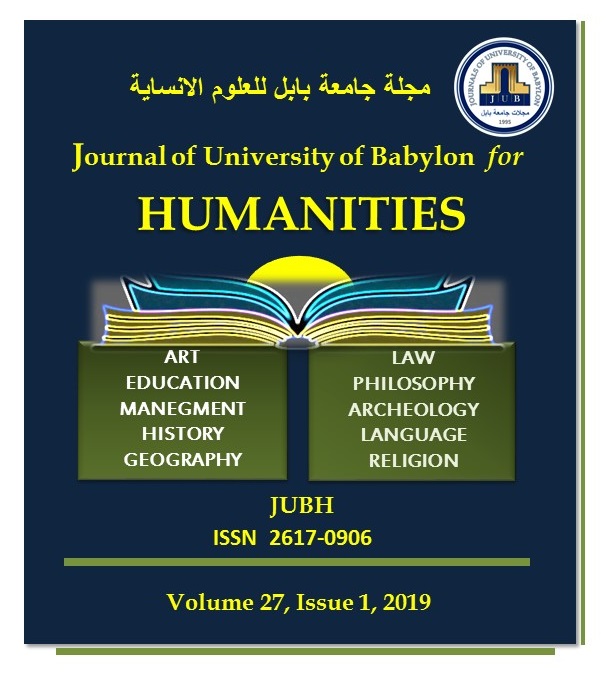 How to Cite
[1]
N. M. N. Al – Husseini, "Penal Protection of the Air Environment (A Comparative Study)", JUBH, vol. 27, no. 1, pp. 141 - 161, Apr. 2019.