The Image of the Hero in the Art of Popular Arab Photography
Maha Saleem Abood

Student Activities
Keywords:
Image of the, Art of Popular Arab Photography
Abstract
The current research consists of four chapters. The first chapter deals with the research problem, which is summarized as follows: What are the characteristics of the image of the hero in the art of Arab popular photography as well as the importance of research and its need? .
The second chapter included two topics: First: Characteristics of the art of portraying the Arab folk and the second topic: the concept of heroism in the Arab popular culture, as well as the indicators that the research ended. The third chapter deals with the research procedures represented by the research, the research sample, the research methodology, and the analysis of five models of Arab folk photography. The fourth chapter included the results of the research, the most important of which:
-The image of the hero in the Arab folk art is based on a literary legacy or a long oral tradition, influenced by the methods of formulating the heroic character in Arab folk art.
-The image of the popular hero draws its strength and psychological and aesthetic impact from specific positions chosen by the popular artist from the whole biography of the hero and is formulated according to his artistic vision affected by the popular public view of this beloved figure.
The most important conclusions are:
-popular artist uses the bright and bright colors of an atmosphere of optimism and a sense of vitality and focuses on contrasts color that gives the forms of strength and greater presence in the eyes of the recipient
 As well as recommendations, proposals, form appendix, research summary in English and research sources.
Downloads
Download data is not yet available.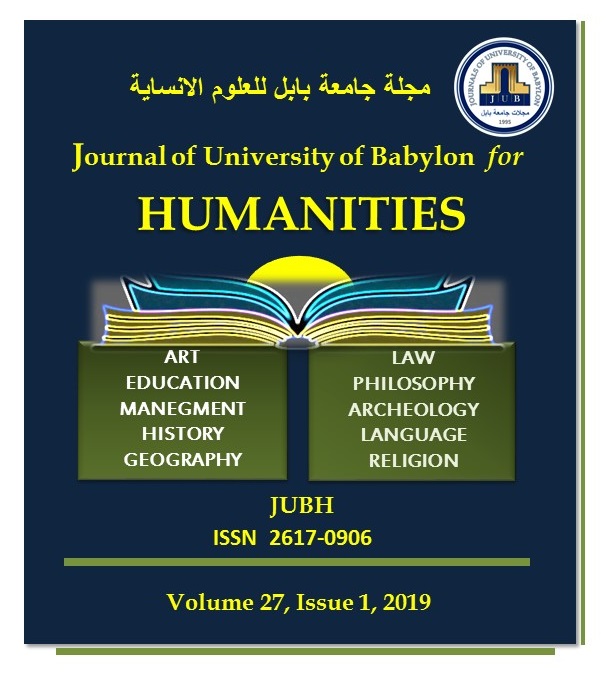 How to Cite
[1]
M. S. Abood, "The Image of the Hero in the Art of Popular Arab Photography", JUBH, vol. 27, no. 1, pp. 184 - 204, Apr. 2019.