Symbol and Fiction in the Works of Lowland Artists for the Period of (1400-1600) M
Ahmed Hofdi Hassan

College of Fine Arts / Babylon University
Keywords:
Symbol, Imagination, Lowlands
Abstract
This research is an attempt to identify the concept of symbol and imagination in the work of artists of the lowlands and the role played by the two terms in the development of art, where the current research contained four chapters, the first chapter included the problem of research and importance and need. The problem of research was identified in the answer to the question: Symbol and imagination in the work of artists of the lowlands for the period (1400-1600) m - and these two roles of prominent role in the development of art later - and how to use the symbol and imagination in the art of photography within the natural vision of art of lowlands? The research objective was determined by highlighting the role of symbolism and imagination in the work of lowland artists and the intellectual and moral dimensions. The limits of the research were determined by a collection of works of art within the period (1400 AD-1600 AD), as well as aesthetically and philosophically defined terms. The second chapter included three topics, the first of which was the social dimension in the work of artists of the lowlands. The second topic dealt with the role of nature in the works of artists of the lowlands in the period (1400 - 1600 m). The third section included the symbolic dimension and imagination in the artistic output of a group of artists of the lowlands, and the third chapter deals with the procedures that included the research community which is the drawing (drawing) and the sample of the intentional research and reached (4) models and methodology of the research, descriptive analytical method. The fourth chapter included conclusions, conclusions, suggestions and recommendations.
The artists of low-lying land, nature and diversity in building designs used ways in which they interacted with their love and their propensity for well-being, life and the love of nature.
The aesthetic dimensions of the colors of the artists of the lowlands varied through the adoption of the elements of color contrast, in order to achieve the total aesthetic dimension of the artistic painting.
Downloads
Download data is not yet available.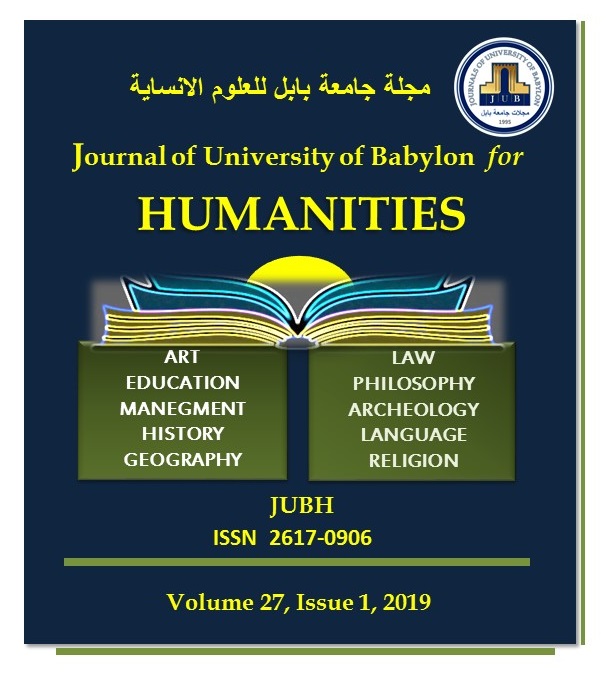 How to Cite
[1]
A. H. Hassan, "Symbol and Fiction in the Works of Lowland Artists for the Period of (1400-1600) M", JUBH, vol. 27, no. 1, pp. 205 - 228, Apr. 2019.