The Language of Jawahiri :Between The Reality of Word and iIts Implication
Shaymaa Mohammed Kadhim

College of Education for Human Sciences / University of Babylon
Keywords:
language, realistic, suggestive, prose, context
Abstract
The language of poetry has found great interest from critics and researchers in ancient and modern times because it is an essential element in the construction of the poetic text. At the same time, it is the poet's way of conveying what is in his mind and his thoughts and delivering it to the recipient in a clear and frank manner
This is either through vocabulary acquired by the connotations of the context according to the ability of the poet and his proficiency in the adaptation of these words depending on his experience of poetry or through linguistic structures represented by the idea of the poet who wants to give it to his recipients.Note that the language of poetry is not the language of prose, because it is a language of inspiration, not grammatical grammatical forms only, it is a means and an end in that one. The research interest in clarifying the genius of the poet Jeweler in adapting the language and make it in keeping with the spirit of the age and culture of recipient, based analytical method in the questioning of poetic texts, and the most important thing in the research that the era of the 1920s of the era of poetical Jeweler is a reflection of the ancient language, And the simulation and imitation of the old, but the choice of words and use in the position that he wanted them from each subject in his poetry, came his modernist poetry mosaic panel includes the past and made and the current and liberal.
The research came on two demands: the first is the theoretical aspect, the second is the applied analytical aspect, followed by a conclusion and a list of sources and references.
Downloads
Download data is not yet available.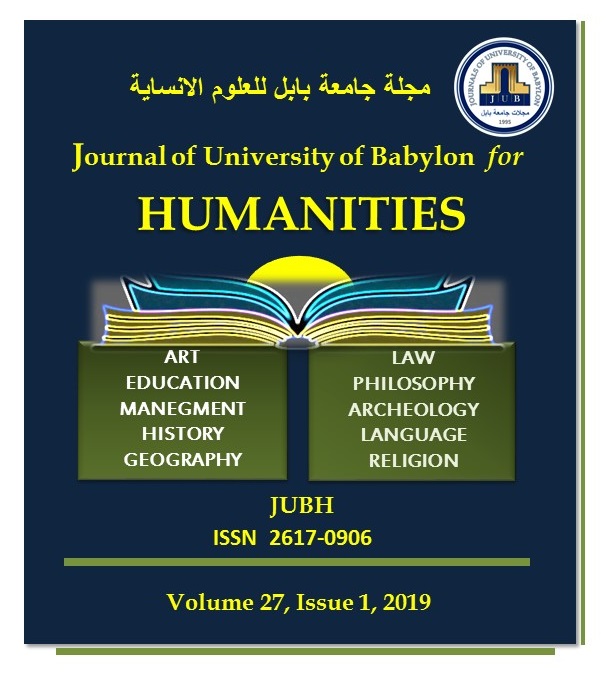 How to Cite
[1]
S. M. Kadhim, "The Language of Jawahiri :Between The Reality of Word and iIts Implication", JUBH, vol. 27, no. 1, pp. 320 - 337, Apr. 2019.