Aesthetics of Theatrical Direction in the Shows of Open Spaces
Mohammed Kadhim Hashim alshammari

Department of Performing Arts / College of Fine Arts / Babylon University

Haider Jawad Kadhim Alamidi

Department of Performing Arts / College of Fine Arts / Babylon University
Keywords:
director, Theatrical Show
Abstract
      The theatrical space is characterized from other components and elements of theatrical show with being considered as an incubator that includes all techniques of show beside the viewer, without space of show means there is now deed submitted to the viewer, it lies in first rank of show geography that is determined by director, picking the space depends upon the style of director and his artistic vision that will appear to be a feature added to the features of theatrical direction in foundation of space, casting the show and its methodical that himself should discover through nature of text and his technical skills because directional vision depends in application upon privacy of space i.e. inventing new space matches with idea of show. So, recent directional experiences seek for contrast in presenting their shows, so the stage director resorts to suggested spaces out of familiar Italian box and open space is one of them due to the aesthetic added by these open spaces for the show's aesthetic and it's other functions like evidence, drama and psychology.
The research consists of four chapters, first one tackled with methodical frame that included research's problem represented by the following question (Does theatrical direction acquire aesthetic function beside it's other functions of evidence, drama and psychology in the shows of open spaces from others?) while the aim was limited to (Exploring aesthetics of theatrical direction in shows of open spaces) plus to importance and need to the research and specifying most important terms.
Second chapter was the theoretical frame and previous studies, divided into two sections, first one tackled with studying (Open space show, growth/ development) displaying growth of open space starts from Greek stage passing throw ancient times until renaissance), while second section concerned about studying (Contemporary directional shows in open spaces) then indications that resulted from theoretical frame. While third chapter concerned about research's procedures, analyzing the intentional attained sample (Universal adventure) displayed on (2013), the two researchers depends in designing the analyzing tool upon the indications obtained from theoretical frame, while in the fourth chapter the researcher had recommended a bunch of conclusions, suggestions and recommendations to finalize the research with a list of references and sources.
Downloads
Download data is not yet available.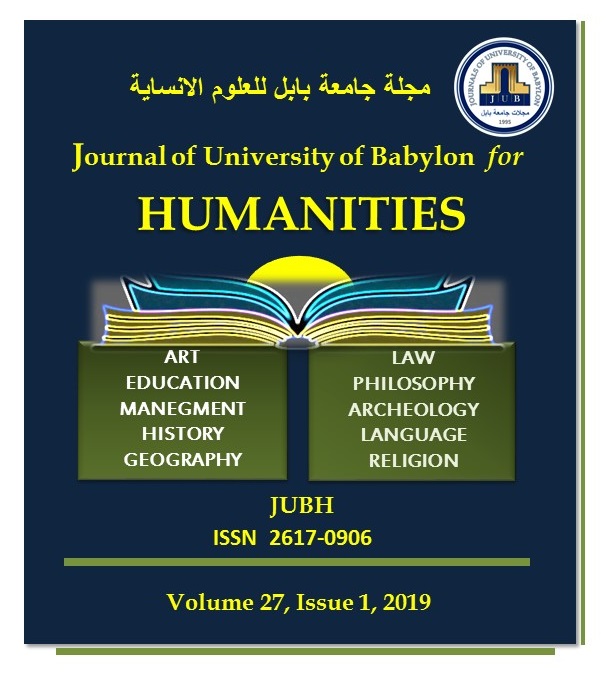 How to Cite
[1]
M. K. H. alshammari and H. J. K. Alamidi, "Aesthetics of Theatrical Direction in the Shows of Open Spaces", JUBH, vol. 27, no. 1, pp. 481 -496, Apr. 2019.