Aesthetics of Repetition in the Art of Assyrian Ceramics
Afrah Malik Mohsen Al-Hassani

Department of Arte Educationl/ College of Fine Arts/ University of Babylon
Keywords:
Ceramics, aesthetics, forms, techniques, repetition Assyrians
Abstract
Assyrians are Semitic people who succeeded from the Arabian Peninsula and settled in the northern regions of Mesopotamia and parts of Iran, where their civilization continued from the previous civilizations (Sumerian - Akkadian - Babylonian) As the nature of the northern regions lack the raw materials for the manufacture of porcelain (Altayan) forms limited, which made the Assyrian artist interested in the art of ceramics because it is an important aspect of culture and a key element in the structure of human construction where the repetition in the work of God gives an aesthetic style, Spatial space and design laws. And characterized by the emergence and beauty and that the problem of the current research comes through the disclosure of the ideas of the Assyrian artist, who used repetition in his ceramic work, which was not studied by researchers in the science of the researcher. Therefore, it is necessary to shed light on the reasons that led to the production of these forms, whether they were rooted in spiritual or religious motives selected from the gods or were carried out by the wars affected by the Assyrian empire. Based on the above, the researcher decided to determine the problem of his research the following questions. Has the Assyrian artist been able to use clay clay with its aesthetic and technical charm to embody repetition in all forms?
 Was the Assyrian arts influenced by other arts due to the Assyrian state's light of foreign rule, or did it preserve the unity of its ideas? The second section is divided into two sections: the first is the ceramic arts in the Assyrian civilization, the second is the Assyrian glaze. The third chapter includes the research procedures that include the research society, the research sample and the research methodology. Chapter IV contains the findings, conclusions, recommendations and proposals.
Downloads
Download data is not yet available.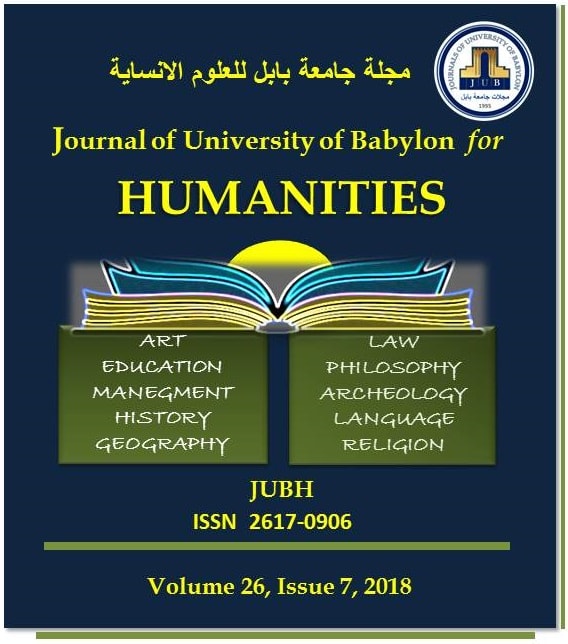 How to Cite
[1]
A. M. M. Al-Hassani, "Aesthetics of Repetition in the Art of Assyrian Ceramics", JUBH, vol. 26, no. 7, pp. 684 - 696, Apr. 2019.