To: (Satan and the Soul) (Whispers):The Attribution of the Verb and its Transgression in the Holy Quran إسناد الفعل وَسوَسَ إلى:(الشيطان والنفس) وتعديته بالحروف في القرآن الكريم
Driss Hamad Hadi

Department of Arabic Language /College of Arts /University of Babylon
Keywords:
Satan, and his horse, Satan, Toussus
Abstract
Praise be to God who created different tongues made it a verse of his verses, and made the Arabic language for the sake of his book was sent to the good of his creation to warn them, addressed them a speech they understand and help, and can not come like himThe Holy Quran is a book of wondrous structure coherent elements, each term in which the purpose of the purpose, it is not a word but a subject for the purpose of achieving the achievement, and may not be clear differences between words only after reflection, and the Koran came in a manner not 
reach his place except God Almighty Knowledge and knowledge of secrets and facts, which brings him to his point and minutes.
I have sought to elicit some of his words, to clarify the aspects of linguistic and stylistic wisdom. The choice was made on some of the words that were given to the term "the devil and the soul" and found the verb (woss); and the breadth of its significance, came the title: (attribution of the verb: (Wesus) to the devil and the soul and its transgression in the Holy Quran) The research was composed of four demands as follows.
The first requirement: the meaning of the verb (wos) and its derivative and sound level.
The second requirement: the meaning of the words: (Satan and the soul).
Third requirement: the verbality of the verb (Wosus) with the two trajectories of the traction (not and to).
the third requirement: the verbality of the verb (Woss) Baharvi Traction (Ala and in).
The conclusion includes the most important results of the research, and then a list of sources and mirrors
Downloads
Download data is not yet available.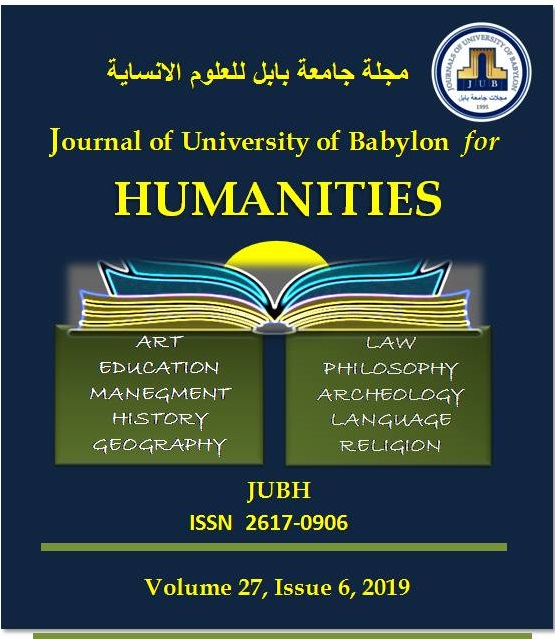 How to Cite
[1]
D. H. Hadi, "To: (Satan and the Soul) (Whispers):The Attribution of the Verb and its Transgression in the Holy Quran إسناد الفعل وَسوَسَ إلى:(الشيطان والنفس) وتعديته بالحروف في القرآن الكريم", JUBH, vol. 27, no. 6, pp. 16 - 30, Dec. 2019.