The Study of Pleonasm in Some Selected Texts of Shakespeare's Drama: Julius Caesar
Rusul Dawood Salman Al-Nasrawi

Dept.of Energy-College of Engineering/ Al-Mussaib-University of Babylon Babylon- Iraq
Keywords:
pleonasm, syntactic pleonasm, semantic pleonasm
Abstract
Pleonasm is the use of more words rather than necessary or it is the repetition of the same words for emphasizing.Pleonasm can be viewed as a repetition of words in order to reinforce the idea for understanding because in most cases there is misunderstanding, mishearing or there is unknown and misfound a mean of communication.e.g. Muna sees the beautiful view with her eyes .So ,in this sentencethe superfluous phrase is (with her eyes )because it repeats the idea of (seeing).
It is hypothesized that the increasing of using the pleonasm expressions is just a superficially whereas the words ,phrases and the additional sentences are not a useless according to aforementioned.
The aim behind using pleonasm is the emphasis about something that the speaker wants to shed lights on it.The present study proposes the following hypothesis :Pleonasm in English has two types: syntactic and semantic and each one has its own sub-types.
The study ends up with the conclusion that pleonasmis sometimes used.pleonasm is used  unconsciously by the speaker because he is backed to his style of speaking.
Downloads
Download data is not yet available.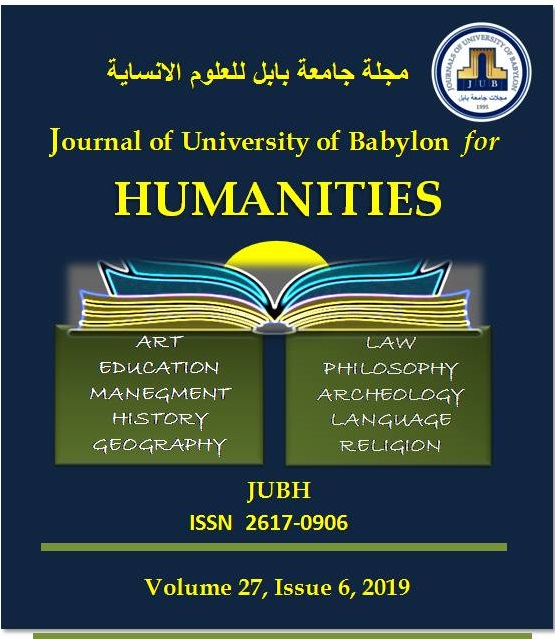 How to Cite
[1]
R. D. S. Al-Nasrawi, "The Study of Pleonasm in Some Selected Texts of Shakespeare's Drama: Julius Caesar ", JUBH, vol. 27, no. 6, pp. 58 - 68, Dec. 2019.