The Rhythm of the Body in the Iraqi Feminist Novel Novel of Silence of Elham Abdel Karim is a Model ايقاع الجسد في الرواية النسوية العراقية رواية الصمت لـ الهام عبد الكريم انموذجا
Zena Hamza Shakir

Department of Performing Arts- College of Fine Arts-Babylon University
Keywords:
The silence, The body, The sound, Implicated format , Concealer , Tapu
Abstract
1- There are stylistic and conceptual loads of language from the dialogue and description of the narrative of women themselves and hinted the narrative to the emergence of new terms that represented a particular linguistic structure in its composition
2- The narrative in the feminist narrative presented treatments for the status of women in their various life roles (childhood, adolescence, youth) and the accompanying ideological and social changes
3- The body's performances in the narrative body varied between the action and the response and the acts of the violation of the body between the verbal and verbal symbolic violence. Hence, the body in the feminist writing is a form of dictaphysical form that divides into various indications, between subjective and objective according to the social space itself
4- The poetry of the narrative was accompanied by traits with dimensions of (revelation and microphones in dealing with the self and
with the otherman, power) 
5- Openness of the text to infinity to be in front of a meaningful question, but that the answers themselves overlap with the questions so as to make it difficult for the recipient to differentiate between the answer and the question, which means diverting the course of writing from the private to the public in the waving to direct attention to the concerns of contemporary human and fateful issues
6- The narrative text employed an aesthetic disadvantage for many margins of places and things according to the character of the character and its psychological situation
7- The body has its voice as part of the language of silence in the novel and in parallel with the title of the body to coincide with the social silence.
Downloads
Download data is not yet available.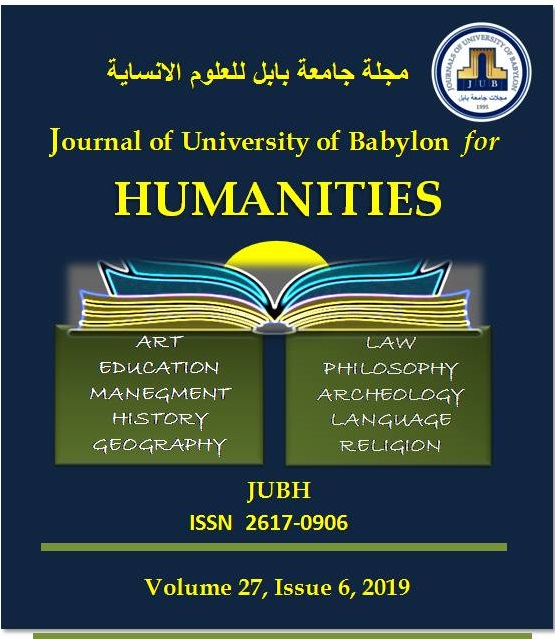 How to Cite
[1]
Z. H. Shakir, "The Rhythm of the Body in the Iraqi Feminist Novel Novel of Silence of Elham Abdel Karim is a Model ايقاع الجسد في الرواية النسوية العراقية رواية الصمت لـ الهام عبد الكريم انموذجا", JUBH, vol. 27, no. 6, pp. 88 - 94, Dec. 2019.