The Crime of Harboring a Terrorist (A Comparative Study) جريمة إيواء ارهابي (دراسة مقارنة)
Muna Abdalaly Musa

College of law /University of Babylon

Nafei takleef Majeed

College of law /University of Babylon
Keywords:
crime, harboring, terrorist
Abstract
The crime of harboring a terrorist  is one of the crimes issued by the Iraqi legislator with crimes harmful to the public interest in articles (199 and 273) of the Iraqi Penal Code. The Iraqi legislator has set a penalty commensurate with this crime. At the time the Iraqi legislator, in Penal Code No. 111 of 1969, But this crime has begun to spread in recent times because of the spread of extremist ideas and terrorism, and with the spread of this crime extensively recently, the Iraqi legislator intervened to put an end to the spread punishable by the (article 4, paragraph 2) of the anti-terrorism law No. (13) For the year 2005, and concentrated the problem of research in the text (Article 2, paragraph 2) of the Anti-Terrorism Law did not refer to the issue of exemption from the crime in relation to the wife's lodging of her terrorist husband, his assets, his branches, his sister and his brother, since the legislator in the law Based on this, we discussed this crime in addition to the Iraqi criminal legislation in the Egyptian Penal Code. We divided the research into three sections. The first topic is the concept of the crime of harboring the terrorist and eating. In a second section harboring terrorist elements of the crime and the third section Fajssnah for the punishment of harboring terrorist.
Downloads
Download data is not yet available.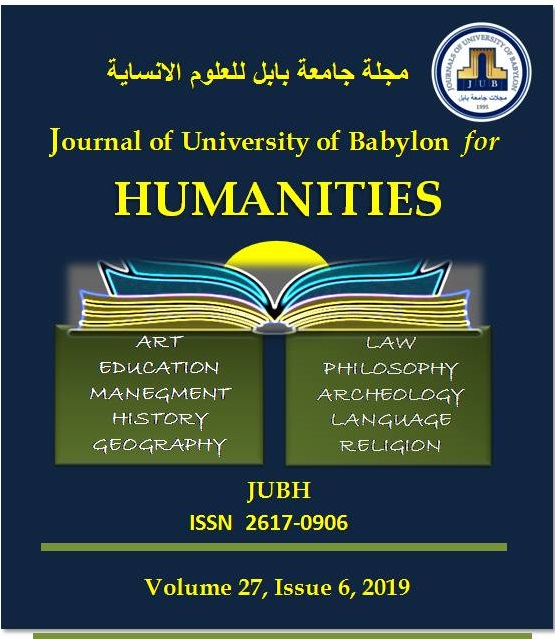 How to Cite
[1]
M. A. Musa and N. takleef Majeed, "The Crime of Harboring a Terrorist (A Comparative Study) جريمة إيواء ارهابي (دراسة مقارنة)", JUBH, vol. 27, no. 6, pp. 110 - 124, Dec. 2019.