Social Phenomenain in Quran الظاهرة الاجتماعية في القرآن
Nathim Jawad Kathim

Sociolgy College of Arts, University of Babylon, Babylon Sity Iraq
Keywords:
Society, Sociolgy, Quran
Abstract
In conclusion, the koran is a book to organize the social presence of the human being on the earth it is a method and guide to guide man to the horizons of piety. He created for her the rights of obedience to God, His unification and the acknowledgment of His servitude.Thecosial phenomenon has influenced the meeting because it affects the situation in which the society can be describad and its lifestyle . The social phenomenon is defined as the general rules and trends that are takenin the society as the basis of organizing the collective life, and coording the relations between the members of this society and linking them together, ©ther research and consideration of the importance of the importance of the subject and its scientific value and humanitarian research came social phenomena of the koran has included the definition of the concept of social phenomenon in sociology and reference to its characteristics such as automatic as automatic , algebraic and general and being external and then addressed the phenomenon of social reading ass the koran carries a reform project to save humanity from the organizations to the light and analysis of the injutice that live under it and then refer to the social phenomenon of the koran which the koran described as negative ,a phenomenon of idolatry And the phenomenon of nomadism and tribal nervousness and the phenomenon of social culture and double personality and then the phenomenon of scramble and conflity and wars and the phenomenon of disbelief behavioral tyraanny and then inertia and antiquity and superstition .
Downloads
Download data is not yet available.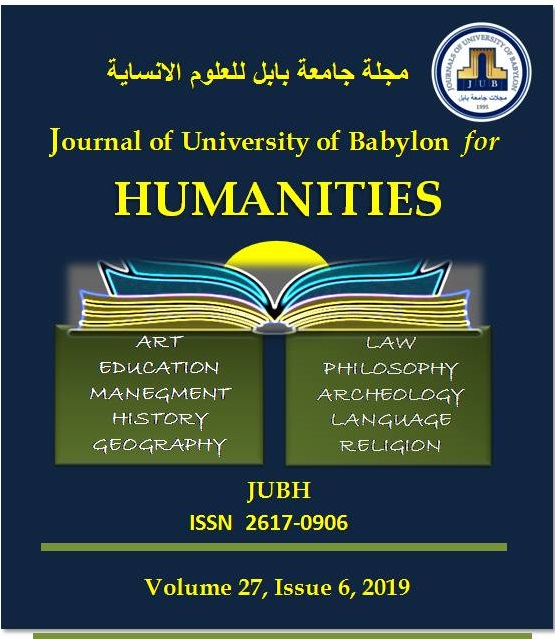 How to Cite
[1]
N. J. Kathim, "Social Phenomenain in Quran الظاهرة الاجتماعية في القرآن", JUBH, vol. 27, no. 6, Dec. 2019.