Iraq's Withdrawal from the Baghdad Pact in 1959, an Analytical Study of Al-Thawra al-Baghdadiya Newspaper انسحاب العراق من حلف بغداد عام 1959دراسة تحليلية لجريدة الثورة البغدادية
Saleh Abbas Nasir Al-Tae

Department of pPress/College of Arts/Ahl al-Bayt University/Karbala/ Iraq
Keywords:
Alliance, Baghdad, newspaper, revolution, Middle East
Abstract
The withdrawal of Iraq from Baghdad pact dealt a deadly blow at the colonial presence and its military bases in AL- Habbaniyah, and Baghdad, which were abase to attaclc all liberation movements in Arab region . also it restricted all the  patriotic parties and movement  in Iraq while they were calling to liberate it politically and economically .Abdul Ellah and Nuri al-Said played an important role in defending colonialism and its survival.
Al-Thawra newspaper followed all the achievements of the of July 1958  revolution  on all levels, political, economic and social, especially Iraq withdrawal from the sterling block and relieving Iraqi dinar from  the Britain dependency .colonial pacts such as the Baghdad pact, the Hashemite Union. Also the economic withdrawal of Iraq from the region of and the liberation of the.is also dealt with in the newspaper.
Al-Thawra newspaper continued to publish the people's demands of Abdul Karim Qasim to withdraw from all the  international treaties, especially Baghdad treaty, till Iraq finally withdrawn on the 24th of March 1959.
Downloads
Download data is not yet available.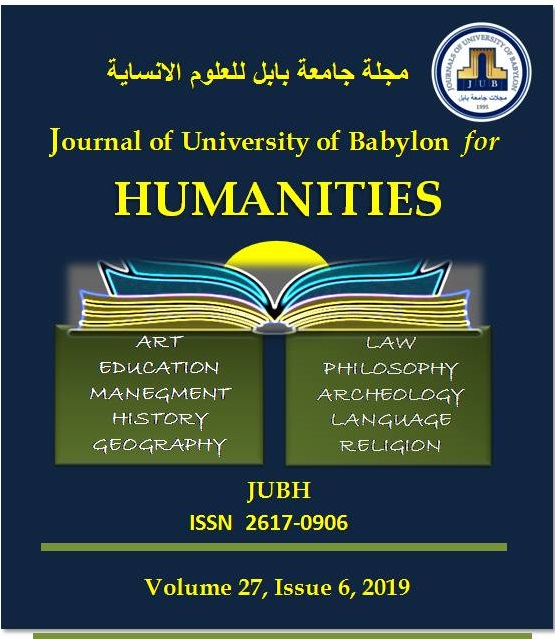 How to Cite
[1]
S. A. N. Al-Tae, "Iraq's Withdrawal from the Baghdad Pact in 1959, an Analytical Study of Al-Thawra al-Baghdadiya Newspaper انسحاب العراق من حلف بغداد عام 1959دراسة تحليلية لجريدة الثورة البغدادية", JUBH, vol. 27, no. 6, Dec. 2019.