Substantive Criminal Protection of the Assets and Equipment of the Internal Security Forces الحماية الجزائية الموضوعية للموجودات والتجهيزات الخاصة بقوى الامن الداخلي - دراسة مقارنة-
Hason obed hajej

College of Law / University of Babylon /Iraq

Raafat Kazom Bazon

College of Law / University of Babylon /Iraq
Keywords:
Loss , Damage , The findings , Equipment
Abstract
Penal protection of assets and equipment means that the criminal legislator seeks to protect the interests and rights of society and to deter anyone who assaults them on the basis of that criminalization. Any act committed against government materials, whether such assault causes loss or destruction, as it is necessary to maintain government funds in the ISF facility. It is necessary to ensure that it proceeds steadily and regularly and thus the public should undertake the task of this protection through the development of legal provisions criminalizing the assault that obtains assets and equipment belonging to the internal security forces and the appropriate punishment for these crimes, which affect government money allocated to the security forces. To achieve public benefit and contribute to strengthening the role of the security man in the performance of his job by strengthening his role to maintain internal security, because otherwise would lead to the destabilization of confidence between the members of the security services and the consequent danger and damage at the same time to public order in general and the security institution in particular, The Penal Code of the Internal Security Forces No. (14) of 2008, amended for the first time after the change of government in 2003 to address a large and important segment in order to achieve the highest levels of control and combat financial
corruption, which does not regulate the internal curriculum of this special category of society, so came the importance of these Study as a guarantee It is certain to protect the public right and the police.
Downloads
Download data is not yet available.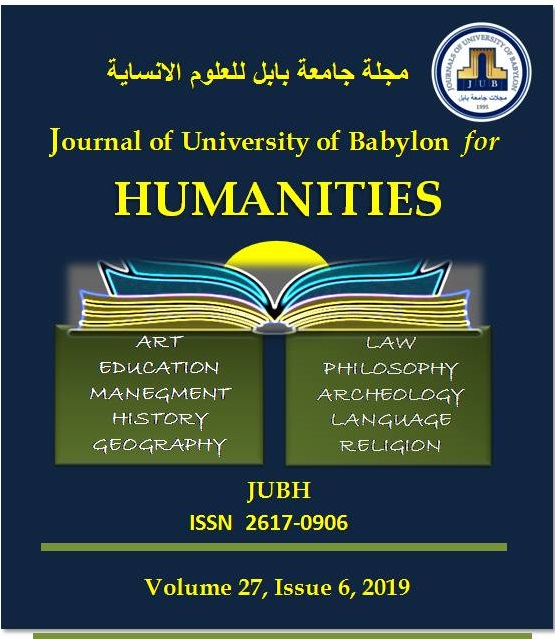 How to Cite
[1]
H. obed hajej and R. K. Bazon, "Substantive Criminal Protection of the Assets and Equipment of the Internal Security Forces الحماية الجزائية الموضوعية للموجودات والتجهيزات الخاصة بقوى الامن الداخلي - دراسة مقارنة-", JUBH, vol. 27, no. 6, pp. 365 - 392, Dec. 2019.