Features of Globalization in Contemporary Iraqi Plastic ملامح العولمة في التشكيلي العراقي المعاصر
Eali Eatiat Musaa

Department of Plastic Arts, College of Fine Arts, University of Babylon, Iraq

Mustafa Sahib Abbas

Department of Plastic Arts, College of Fine Arts, University of Babylon, Iraq
Keywords:
Profiles, Globalization, Iraqi Plastic Art
Abstract
The study aimed at identifying the features of globalization in the contemporary Iraqi formation
Or the work of modern Iraqi formation.
The boundaries of the research were represented by the spatial boundaries (Iraq) with the extension of its temporal boundaries for the period
(1990 – 2019)  within the substantive limits that include contemporary Iraqi art produced and exhibited and others, which included (art exhibitions, public holdings, museums, electronic information network, newspapers magazines)
In the modern Iraqi formation, the development of science and technology and modern discoveries contributed to the production of the art of formation. The postmodern composition represented a field for the testing of ready-made materials and raw materials in order to search for the creation of different forms of plasticity. Iraqi production.

 Finally, the recommendations and proposals and the list of Arab and foreign sources and annexes containing the totals of the
perspectives of the research community and the summary in English.
Downloads
Download data is not yet available.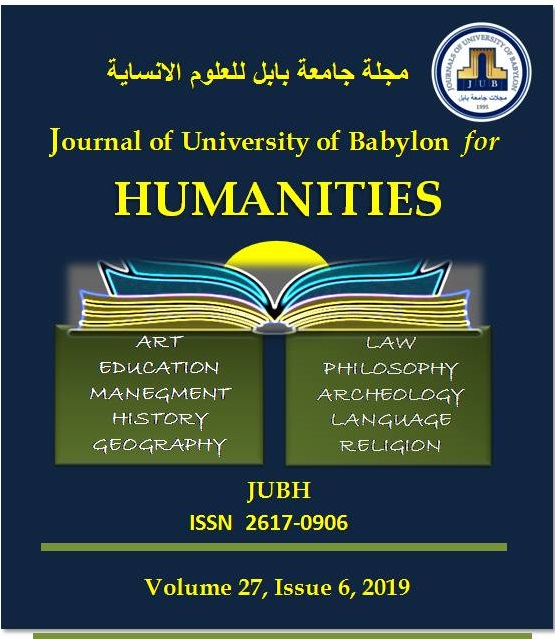 How to Cite
[1]
E. E. Musaa and M. S. Abbas, "Features of Globalization in Contemporary Iraqi Plastic ملامح العولمة في التشكيلي العراقي المعاصر ", JUBH, vol. 27, no. 6, pp. 400 - 422, Dec. 2019.