The Manifestations of Quranic Interrelationship in Modern Palestinian Poetry تجليات التناص القرآني في الشعر الفلسطيني الحديث
Mahdl Yaqub Farhani

Member of the Faculty of the University Ofvelyetiran SHAHR
Keywords:
Quran, occupation, Palestine
Abstract
This research deals with the manifestations of Quranic interrelationship in modern Palestinian poetry from the light of the national poetic effects of the Palestinian poets؛The Qur'anic verses related to religious stories are read in their poems, and their texts are read in the Quranic verses with their stories, meanings and interpretations, through the quotation of some verses of the Qur'an, to show the strength of their influence in the purposeful struggle.The Quranic discourse, in its internal and external form, has been used in literary works. The Quranic discourse has an aesthetic moral purpose. The Palestinian poetic discourse has invoked the sanctity of the Holy Qur'an as a literary source.The Palestinian poets have taken from the Quranic texts and the stories of the Prophets, such as the story of Joseph and Moses, peace be upon them, and the role played by children, stones and the abelian to express the bitter bitterness and suffering of their people and the resistance of the occupying enemy.
Downloads
Download data is not yet available.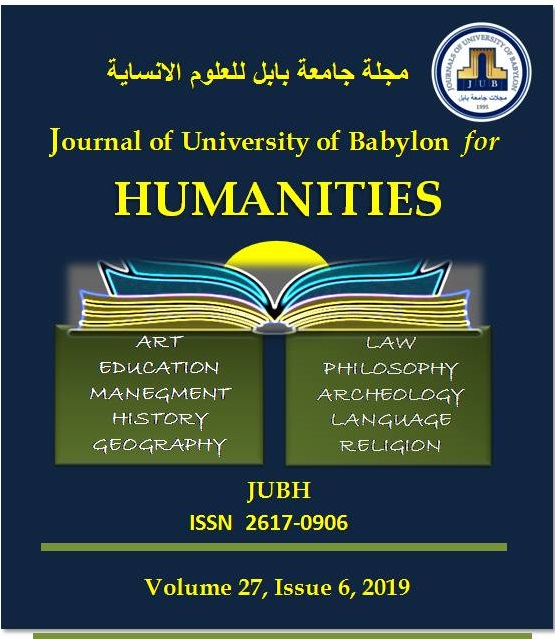 How to Cite
[1]
M. Y. Farhani, "The Manifestations of Quranic Interrelationship in Modern Palestinian Poetry تجليات التناص القرآني في الشعر الفلسطيني الحديث", JUBH, vol. 27, no. 6, pp. 423 - 436, Dec. 2019.