The Fifth Ecumenical Council the Second Ecumenical Constantinople Council (553 A.D.) المجمع المسكوني الخامس مجمع القسطنطينية المسكوني الثاني 553م
Ra'id Raheem Kudhair

Imam Al-Kadhim College
Keywords:
Council of Constantinople, Justinian I, Theodore, Direct causes, Indirect caus
Abstract
The Ecumenical Councils are considered one of the most prominent landmarks of European history in the Middle Ages, especially in the religious aspect, because they discussed very important issues related to the Christian Belief in addition to dealing with religious views and novel things which appeared in the religious area. One of these councils is the second Constantinople (553 A.D.) which was held in the early days  Emperor Justinian (527-565 A. D.) reign.   
This council considered a number of theological views widespread in that era namely the works of  (Origen) and ( Theodor von Mopsuestia),and (Theodoret von Cyrus) and(Ibae - Al-Rahawi) .
 besides a number of other religious matters. The paper discusses in detail this council starting from revealing the Byzantium Empire internal conditions in its eastern aspect briefly and concisely through discussing the direct and indirect reasons of the Council session, its place, the Popes attending, sessions events, to agenda, decisions and meeting conclusions. Finally the paper ends with a conclusion summarizing the results of the research.
Downloads
Download data is not yet available.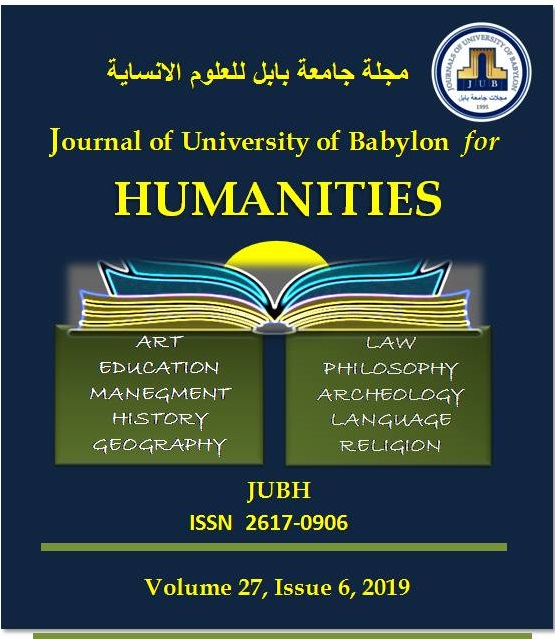 How to Cite
[1]
R. R. Kudhair, "The Fifth Ecumenical Council the Second Ecumenical Constantinople Council (553 A.D.) المجمع المسكوني الخامس مجمع القسطنطينية المسكوني الثاني 553م", JUBH, vol. 27, no. 6, pp. 437 - 463, Dec. 2019.