Issues in Medicine Patching Model
Fatima Hamza Kazem

Department of the fundamentals of religion/College of Islamic Sciences University of Baghdad
Keywords:
Patchwork, Sucked, Modern sender, Self-abuser
Abstract
The tinkering of the organs of the emerging things in medicine, which depends on the revival of souls respected, which God Almighty ordered to revive it from death or destruction and that the survival of the patient, which damaged some of its members compensated members of the damaged or other diet or industrial We have discussed in this subject a set of legitimate evidence of the passport Patching We found a set of general evidence on the legality of organ parts, including the need to revive the souls, including the evidence of the permissibility of tinkering organs evidence of the need to revive the souls respected from death and loss, but all that tempts and presents them.
This reasoning is based on the introduction of two precepts, namely: the requirement of patching to revive, and the need to revive the law.
The first is patching that requires revival: There is no doubt that the tikkum of organs necessitates revival and salvation from death at all, but in some cases, the tikkir of the heart or the college or some of the other main organs necessitates the disposal of a sick patient Musharraf death and loss, who broke his heart or stopped his kidneys from work and corrupted, The continuation of his or her life is subject to compensation and replacement by another or artificial body member, if any. It should be noted that the proof of this introduction to the science of medicine.
Second: Revival is a legitimate duty: The revival of the souls of respectful souls of death and destruction of the most important divine duties that God Almighty with the revival of all people in the Koran, and evidenced by a variety of stories scattered in different sections.
And patching is not a resource to save the soul from death and death, but is a neighbor without it, such as bowing ear, eye, and patching for all that necessitates the disappearance of the deficiency, or the occurrence of beauty and physical integrity.
Downloads
Download data is not yet available.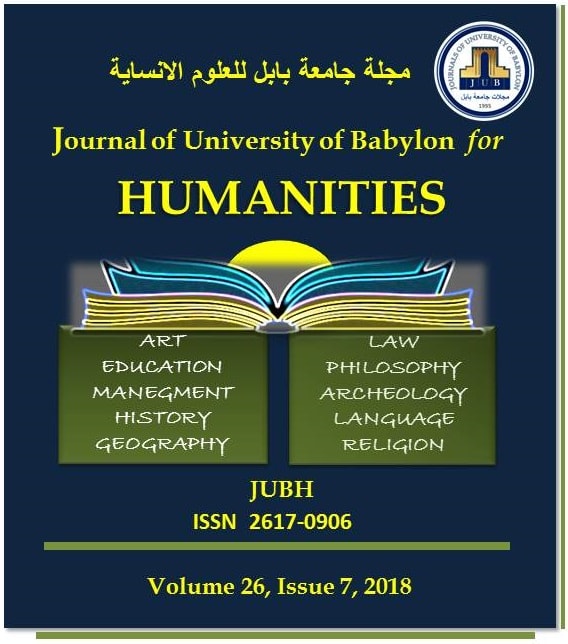 How to Cite
[1]
F. H. Kazem, "Issues in Medicine Patching Model", JUBH, vol. 26, no. 7, pp. 392 - 405, Jul. 2018.