Attude of Al-alama Hassan Al-Mustafawi (1426 H) From the Views of his Predecessors in Linguistic Differences
Shaalan Abd Ali Sultan

College of Education for Humanities/University of Babylon

Marwa Mohammad Kathem

College of Education for Humanities/University of Babylon
Keywords:
Linguistic differences, Mustafawi, tandem
Abstract
When extrapolating the texts of the mark-up in his book (Inquiry into the words of the Holy Quran), it is clear that the Vacationes are based on the texts of the ancients, and on the context of the Koran in its use of the convergent words; To determine the nuances, if any, that are in contravention of the views of his predecessors and may find that  Al-Mustafawi mentions a distinction not mentioned by his predecessors, but that does not negate the other features mentioned by the applicants; because the difference may be more than a semantic feature, and each focuses on a particular characteristic, our number is the same, and we also find that the fireplace does not declare a violation of the opinions of his predecessors but merely mentions his opinion from Du To balance his opinion with those of others, the verdict of consent and infraction is based on the balancing of MAIZEKRH and Manges by the ancients; so we don't have to mention the vacationable, but we're trying to show how he approached the opinion of the former, what he could meet with his predecessors, and the opinions that intersect with the former, which would not let Room for convergence and convergence of views.
Downloads
Download data is not yet available.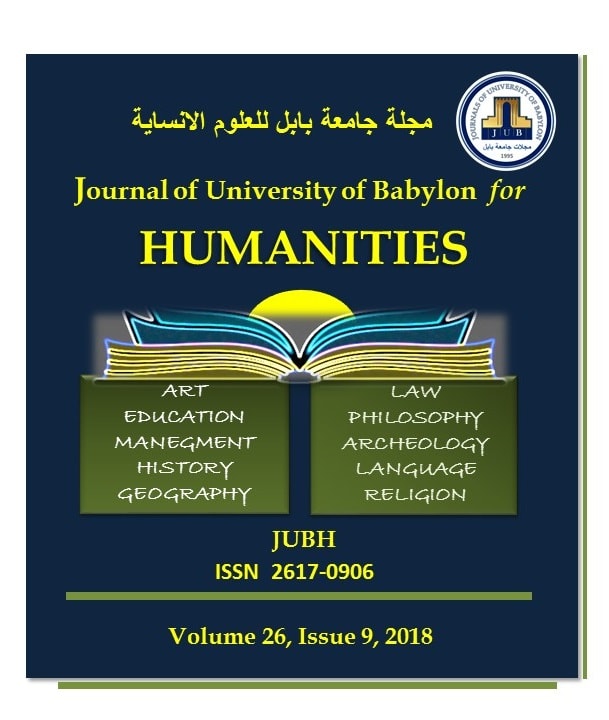 How to Cite
[1]
S. A. A. Sultan and M. M. Kathem, "Attude of Al-alama Hassan Al-Mustafawi (1426 H) From the Views of his Predecessors in Linguistic Differences", JUBH, vol. 26, no. 9, pp. 190 -207, Dec. 2018.