The Intellectual Dimensions of the Contradiction and their Representations in Pop Art الأبعاد الفكرية للتناقض وتمثلاتها في الفن الشعبي (Pop Art)
Mohammed Muhsin Kareem

College of Fine Arts/ University of Babylon

Fatima Latif Abdullah

College of Fine Arts/ University of Babylon
Keywords:
contradiction, representations, pop art
Abstract
The present research deals with the study of (the intellectual dimensions of the contradiction and their representations in pop art) and includes four chapters, the chapter one dealt with the research problem, which was centered on the following question (What are the intellectual dimensions of the contradiction and how was represented in the pop art?), Chapter one also included the importance of research and the need for it, its purpose and limits and determine the terms contained in.
Wherease the second chapter included two subjects, the first concerned with the conceptual contradiction study. In the second section, the two researchers reviewed pop art, and the second chapter ended with the indicators that the researchers concluded. The third chapter includes the research procedures represented by the research community and the research sample which reached (2) a technical model as well as the research methodology, and it is The third chapter ended with the analysis of the research sample.
The fourth chapter is concerned with the results of the research, its conclusions, recommendations and proposals.
Highlights of the research results were:
- Contradiction is a humanness  behavior that constitutes a natural reaction against the pressure of environmental influences in which he lives, then established in his mind, and became a cognitive activity has been translated into aesthetic artistic language circulating in most peoples and communities according to the value of the aesthetic discourse.
-For the contradiction, there are several intellectual dimensions have been emerged. The cognitive dimensions, which were represented in all the sample of the research through approaches to cognitive forces denies one of the prohibitions of the other through the investment of the popular artist data of popular culture of model, images, advertisements and others invested to declare his contradiction with the elitist culture and to emphasize the effectiveness of the micro-class in society, and the possibility of cultural naturalization, which results in aesthetic dialogue puts a hand on the failures of contemporary life and develop solutions to them without the replacement of those theoretical solutions, which were cast into  ready perfect templates  do not suit with the various layers of society.
The main conclusions include:
-The contradiction has its secretions & connections that are, which have seemed to be active in the pop arts. This indicates it ability to violate the standards and usual aesthetic data, and the mechanisms of reading, receiving and approaching to the essence of humanness  life by making it an objective subject.
Downloads
Download data is not yet available.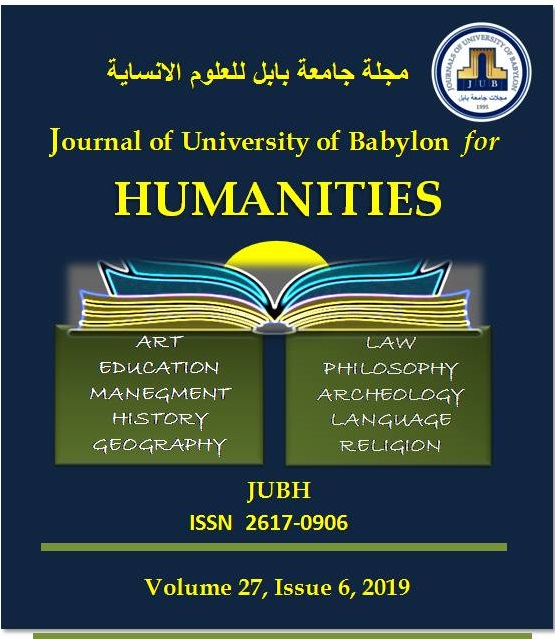 How to Cite
[1]
M. M. Kareem and F. L. Abdullah, "The Intellectual Dimensions of the Contradiction and their Representations in Pop Art الأبعاد الفكرية للتناقض وتمثلاتها في الفن الشعبي (Pop Art)", JUBH, vol. 27, no. 6, pp. 290 - 309, Dec. 2019.