The Arrangement of Recuperation in the Novel of Tashari for(Aniamkeja) نسق الاسترجاع في رواية (طشاري) لـ(أنعام كجه جي)
Difaf Adnan Ismael

University of Babylon/ Faculty of Arts/ Department of Arabic Language
Keywords:
recuperation, the novel of Tashari, the of enumeration, Aniamkeja
Abstract
It consider that it is important component featured in the provision  phonograph about sentence from many questions and attension in order to become alms and to be more effect in the moleculars in the literature act . The narrative romancer take care of the period ( time ) component in order to understand it and clarify the limit distinction each one about the another.
Person clung in time ( period ) since antiquity and he lived the trepidation premonition and sufferance then he became under the fact of time and essence , after that take place the reviewers attention than they became seeing for it important in the narrative field, delimit, stamg basically for it in the story – writer act, it consider that it is soul for it…

It the text story- writer ( tashary ) who wrote in Iraqs, hands who ingenioused ( Aniamkeja ) who created in the novel blokes that considered it rourded about the hero ( Dr. Wardia ) with her memories  diluted, sorrow, pain and Iraqi tradition in all details " says vogue, nouns, vocabulary local " and ability to find connections era uneven between the past associated with present time who is disconnected to tomorrow specific between returning and unreturning, between cultural rubble attempt to hang on with it, outflow, stampede in order to save the grace of life.
Downloads
Download data is not yet available.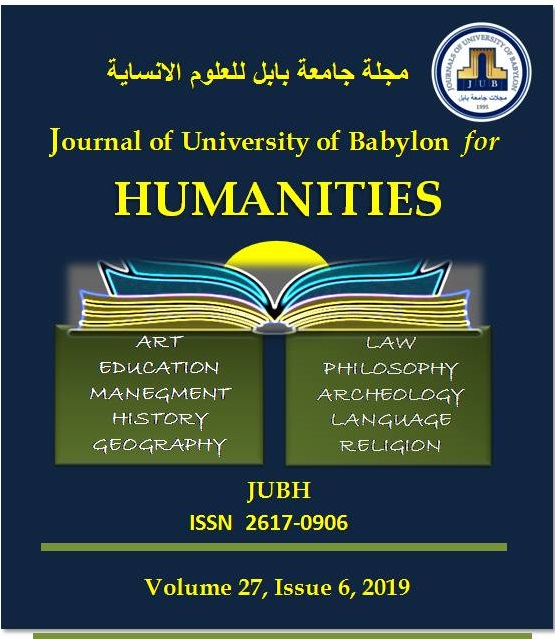 How to Cite
[1]
D. A. Ismael, "The Arrangement of Recuperation in the Novel of Tashari for(Aniamkeja) نسق الاسترجاع في رواية (طشاري) لـ(أنعام كجه جي)", JUBH, vol. 27, no. 6, pp. 393 - 399, Dec. 2019.