Biostratigraphy of Qamchuqa Formation in Jambur Oil Field in Kirkuk Area
Keywords:
Qamchuqa Formation, Biostratigraphy, Foraminifera, Orbitolina, Jambour oil field
Abstract
The Qamchuqa Formation has been studied in three wells ( Ja-15, Ja-20, Ja-22) within Jambur oil field, North East of Iraq . Three hundred and thirty five thin sections have been studied by polarizing microscope in order to determine fossils and biozones. Thirty seven species of benthic foraminifera were recognized.In addition to following fossils that recognized in Qamchuqa Formation :  Calcareous algae – Coptocampylodon fontis, Rudist fragments ,Pelecypods Gastropods , Mollusks , Brachiopod , Ostracods shells  , Echinoid fragmendes , Coral and  Algea .
     Five biozones were observed, they are: Praeorbitolina cormyi – Palorbitolina lenticularis - concurrent Zone (of  Early Aptian), Mesorbitolina parva - Range Zone (of Middle Aptian age), Mesorbitolina texana - Range Zone (of Late Aptian – Early Albian,), Mesorbitolina subconcava - Range Zone (latest early Albian) and Orbitolina sefini - Range Zone (of Late Albian). The age of Qamchuqa Formation has been distinguished according to these biozones, to be as ( Aptian-Albian).
Downloads
Download data is not yet available.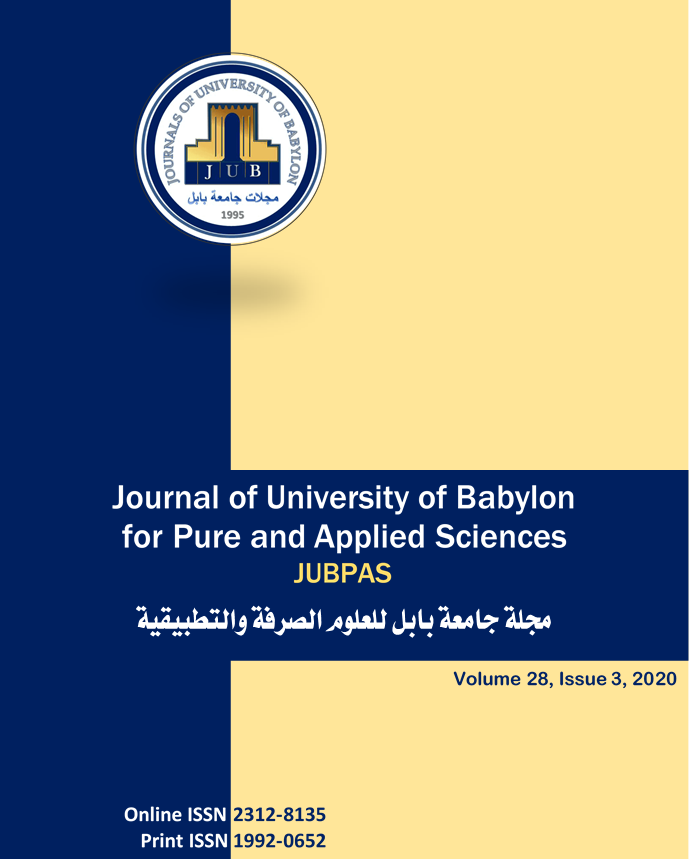 How to Cite
[1]
W. k. . Al-mamory and S. . . Al-Dulaimi, "Biostratigraphy of Qamchuqa Formation in Jambur Oil Field in Kirkuk Area", JUBPAS, vol. 28, no. 3, pp. 216-242, Dec. 2020.
Copyright (c) 2020 Journal of University of Babylon
This work is licensed under a Creative Commons Attribution 4.0 International License.