AEIS: An Enhanced Approach for Extracting Useful Objects in Image Streams
Keywords:
Data Stream Clustering Algorithms, Image analysis, Object detection, Video surveillance, Automatic event detection
Abstract
Data stream clustering alludes to the way toward gathering persistently arriving new information pieces into consistently changing gatherings to empower dynamic examination of division designs. Be that as it may, the fundamental consideration of research on clustering techniques till now has been worried about modification of the strategies refreshed for static datasets and changes of the accessible adjusted techniques. This paper shows a novel clustering (AEIS) method that distinguish stationary articles in online stage and gatherings in disconnected stage from information stream. A tale way to deal with discovery of stationary objects in the information streams is introduced. Stationary objects are these isolated from the static foundation, yet staying unmoving for a drawn out time. Extraction of stationary objects from images is helpful in programmed location of numerous applications, for example, unattended baggage, following an article like creatures, rockets, or reflected waves. The proposed method depends on discovery of image districts containing forefront picture pixels having stable qualities in time and checking their correspondence with the distinguished showing up/vanishing objects. In the primary phase of the method, steadiness of individual pixels having a place with items is tried utilizing a built model. Next, groups of pixels with stable shading (black) are separated from the image. Along these lines, stationary objects are recognized. The consequences of the calculation might be examined further by the classifier, isolating explicit objects (like baggage, creatures, rockets) from different objects, and the choice framework for unattended items identification. The primary focal point of the paper is on the method for extraction of stable image areas. Notwithstanding, a total structure for unattended objects location is likewise exhibited so as to demonstrate that the proposed methodology gives information to fruitful occasion identification. The aftereffects of tests wherein the proposed method was approved utilizing synthesised dataset are exhibited and talked about.
Downloads
Download data is not yet available.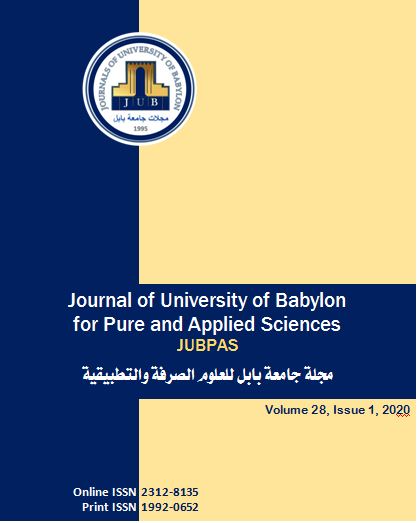 How to Cite
[1]
A. T. Y. . Al Abd Alazeez, "AEIS: An Enhanced Approach for Extracting Useful Objects in Image Streams", JUBPAS, vol. 28, no. 1, pp. 250-266, May 2020.